Download Your Complete Guide Today!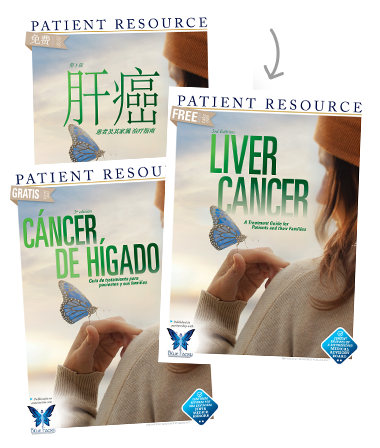 Liver Cancer
Ongoing Monitoring and Care
Whether or not you are still receiving treatment, you will be checked at regularly scheduled intervals to monitor for a possible recurrence or other health care issues. These follow-up appointments are important because finding any disease recurrence early may help successful intervention.
These checkups include a review of your medical history as well as a physical exam. They may also include imaging procedures, blood tests and possibly a biopsy to gauge the cancer's response to treatment or determine whether your cancer has recurred.
Your follow-up care plan may include the following:
Appointment schedule for ongoing monitoring

Palliative care for physical and emotional side effects

Medications or therapies (type, dosage, frequency and duration)

Referral(s) for cancer rehabilitation, such as physical or occupational therapy

Information about your risk of a recurrence, second cancers, long-term treatment-related side effects and late effects

Recommended screening guidelines for other types of cancer.

Meeting with a social worker to help you navigate the financial impact and your emotional well-being
These appointments also give you the opportunity to tell your health care team about new or ongoing physical symptoms that are not adequately relieved, including pain, leg swelling, abdominal distention, jaundice, weight loss or gain, bladder/bowel control, deep fatigue or insomnia, mobility issues, signs of infection, tingling or numbness, fluid buildup or changes in appetite, sense of taste, vision or hearing.
Don't forget to discuss how you feel mentally and emotionally. Specific information to discuss includes the following:
Cognitive (thinking-related) symptoms, such as difficulties with memory, concentration, processing information, word finding or completing tasks

Emotional issues, such as depression, anxiety, fear, anger, grief, hopelessness, feeling overwhelmed or other concerns

Any visits to the emergency room, urgent care or other doctors

New medications, over-the-counter remedies, vitamins, supplements or herbs, including homeopathic or naturopathic therapies
What Survivorship Means
Once therapy is finished or as you continue with maintenance therapy, you will work closely with your doctor to develop a survivorship plan.
This plan is designed to keep track of all pertinent information about your care and may include your medical history and ongoing medications; a list of health care team members with contact information; your specific diagnosis, including type, subtype, stage, any known biomarkers and date of diagnosis; pathology and consultation notes; and a treatment summary. It may also include the tests you may need after treatment.
Ask your doctor for a plan, or start one on your own. Download and print a sample Survivorship Care Plan at PatientResource.com/SurvivorshipPlan. Then, request copies of all your test and biopsy results, surgeries, pathology reports and consultation notes from your doctor's office to fill it in.
It is also recommended that you keep a copy of pertinent information with you to share with health care providers you encounter who are unfamiliar with your situation. Download and print this Wallet Card: PatientResource.com/Wallet_Card.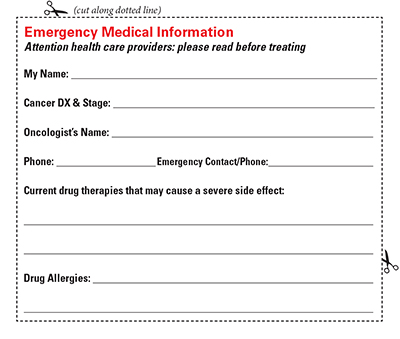 Keep track of your over-the-counter medications
Because many people with liver cancer already have some level of damage to their liver, preventing further damage is crucial. This requires ensuring your new prescriptions do not interact with your current medications and supplements.
In particular, be aware that taking acetaminophen, a common over-the-counter medication, is known to cause liver damage if taken in large quantities in people with compromised liver function. It can also interact with other medications and increase side effects. It is a common drug ingredient in many prescription and over-the-counter medications and can be found in pain relievers, fever reducers, sleep aids and cough, cold and allergy medicines.
Keep a list of active ingredient names to help you identify these drugs. Ask your doctor whether you can take medications that contain acetaminophen and, if so, how much.
Follow these steps:
Read all medicine labels, and look at the active ingredient. Ask your pharmacist how to read medication labels if you are not familiar with them.

Find out whether your doctor recommends limiting your intake of acetaminophen.

Check the label for acetaminophen and its shorter versions, "APAP," or "acetam."

Take your medication as directed. Only take the recommended dose. Do not take more.

Use the same pharmacy each time so your pharmacist can help you keep track of what you are taking.

Do not take medication that has expired.

Do not share medications with others.

Always keep a list of your current medications with you.

Take your medications with you when you travel.