Non-Hodgkin Lymphoma Survivor
Beating cancer is awesome, baby!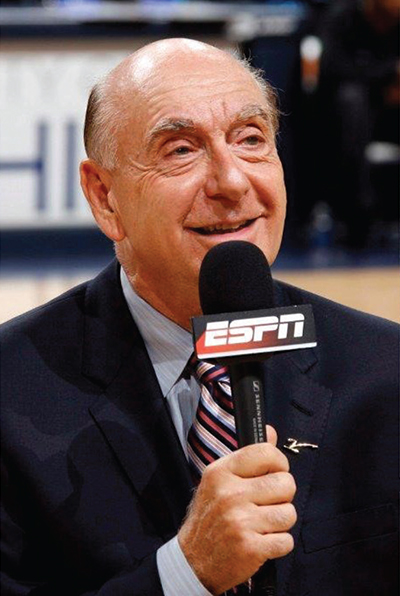 Dick Vitale, ESPN broadcaster and recipient of the 2022 Jimmy V. Award for Perseverance, has shared his love of the game with audiences for decades. His enthusiasm and signature "Awesome, baby!" catch phrase have made Dickie V. a legend in college basketball. At 82, the Naismith Memorial Basketball Hall of Famer also became a cancer survivor.
After returning from an idyllic family vacation in Maui to celebrate his 50th wedding anniversary with his wife Lorraine, Dick had his annual dermatology visit.
"My doctor burned a little something off my nose," Dick said, "and that was that until the biopsy he sent off turned out to be melanoma. I had surgery to remove it and then several plastic surgeries to repair the area. After frequent follow-up visits, all was well."
Three months later, after undergoing tests as a result of symptoms he was experiencing, Dick was diagnosed with lymphoma. It was a second cancer, unrelated to the melanoma. His oncology team in Sarasota, Fla., felt the cancer was not only treatable, but curable, with six months of chemotherapy and steroids.
Although for years Dick has supported the V Foundation for Cancer Research, an organization founded by ESPN and the late North Carolina State basketball coach Jim Valvano as he valiantly fought cancer, this experience opened his eyes. He strives to be transparent so people can see what cancer patients really go through.
"The journey to get healthy is a real journey, not just for patients but their loved ones, too. And it's not just the treatment," he emphasized, "it's the blood work and the needles. I was black and blue until I got a port put in for the chemotherapy. Then there are the scans. If the scans are clear, then I'm done. If they aren't, then I go through this all over again. I know whatever the man upstairs wants to happen will happen, so I pray. "
He also relies on his family to help him stay calm in the face of that uncertainty.
"Lorraine is the Hall of Famer in our family. She goes to every appointment with me and is always by my side. I also have tremendous support from our daughters, Terri and Sherri, and their families."
Often he has been moved to tears by the beautiful messages, cards and gifts from his family, his ESPN family and the fans.
Fortunately, he only experienced minor side effects from the chemotherapy.
"I had some fatigue and constipation, but I can handle that. I also had a hard time sleeping, but my doctor assured me that is normal."
Following each chemotherapy treatment was an injection of a bone marrow stimulant designed to help his body make more white blood cells and reduce his risk of infection.
"For me, these injections were intense," he said. "I had severe bone pain. Taking acetaminophen with an antihistamine is the only thing that gave me relief."
Friends who'd had chemotherapy offered advice, such as staying active.
"Walking certainly helped," he said, and being physically active pleased his doctor.
Not long after beginning treatment, Dick's battle with lymphoma was compounded by a throat inflammation. He sought the advice of a renowned vocal cord surgeon in Boston who gave Dick strict orders: No talking for three months.
This was heartbreaking for the man known to many as the voice of college basketball.
"It affected my whole career, but I was lucky enough to work with a doctor who had treated some of the most famous voices around – Adele, Cher, Bono. So, I did what I was told. I put my health first."
Though he couldn't be courtside or in front of a microphone for the 2021-2022 college basketball season, he stayed involved via social media, posting daily motivational tips and tweeting predictions and opinions in typical Dickie V. fashion. Even without hearing that unmistakable voice, his followers felt his passion.
The diagnosis was dysplasia, a condition causing ulcerated lesions on Dick's vocal cords. Though it was pre-cancerous, it was not related to the lymphoma diagnosis.
Even in the face of cancer and his other health issues, Dick is forever an optimist. He credits his endless supply of infectious positivity to his parents.
"When I was four years old, I lost an eye in an accident with a pencil. I thought it was the end of the world, but I received so much love from my mom and dad that I soon realized it wasn't. They used to tell me, "Richie, don't ever believe in 'can't.'"
Dick's parents also told him that if he gave 110 percent all the time, beautiful things would happen. He's taken that approach with his family and his career, as well as in his quest to defeat cancer.
"My doctors tell me I'm in total remission. I was so proud to ring the bell when I finished my last chemotherapy treatment. I hope and pray I stay cancer-free. I live each day. I treat others as I'd like to be treated, and I try to make each day the most important day of my life."
As he looks toward the future, Dick continues enjoying his family, his career and his commitment to eradicating cancer. He is devoted to raising money for pediatric cancer research through the Dick Vitale Fund for Pediatric Cancer.
"Every year, Lorraine and I host the Dick Vitale Gala. We showcase Dickie V's All-Courageous Kids, a group of kids with incredible stories who are fighting cancer, along with some outstanding individuals in the community who support cancer research. Our most recent goal was to raise $7 million in one evening. We exceeded it, bringing the total we've raised to more than $50 million. We hope that number continues to rise through more donations at v.org/vitale and DickVitale.com."