Non-Hodgkin Lymphoma Survivor
Timing Is Everything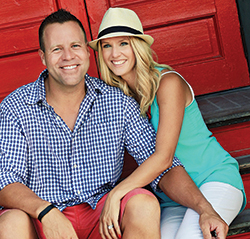 When Emily Dumler was finally diagnosed with diffuse large B-cell non-Hodgkin lymphoma at the age of 32, she didn't realize finding a treatment would be so difficult. After several treatments failed, her doctors suggested a clinical trial. Moving into that uncharted territory, she relied on the wisdom of her doctors and the support of her husband. Now she is cancer-free and encouraging others to seize the many opportunities clinical trials have to offer.
In August 2013, I noticed a considerable amount of blood in my stool. I left our three kids — ages 2, 4 and 6 — with my husband to run up to urgent care. I told them I'd be back shortly, but "shortly" ended up being 43 days later. That's how long it took to determine I had Stage II diffuse large B-cell non-Hodgkin lymphoma.
I was 32, and other than a slight stomach issue, I felt fine. At urgent care, they ran lab tests, thinking it might be infectious colitis. The results came back showing I had 1,000 platelets. The doctor assumed the equipment malfunctioned because the typical number of platelets is 150,000 to 450,000. They repeated the blood tests, and the platelet count was again 1,000. An ambulance took me right to the hospital.
I was diagnosed with idiopathic thrombocytopenic purpura (ITP). After several weeks of failed treatments, scan results showed what they thought was lymphoma in my small bowel. I had a colonoscopy, and the tissue sample confirmed I had diffuse large B-cell non-Hodgkin lymphoma.
I began a standard protocol of six rounds of chemotherapy, one round every three weeks. Halfway through treatment, a scan showed no tumors. I finished the chemotherapy in January 2014. A repeat colonoscopy in August, however, showed the same mass in my small bowel.
My doctors suggested an autologous stem cell transplant. My body didn't respond to two rounds of the conditioning treatment, so my doctors recommended an allogeneic stem cell transplant. Everyone was stumped because my body wasn't responding the way it should be. I got on the donor registry, and while we waited for a match, we sought a second opinion in a nearby city. The doctors agreed with the diagnosis and the treatment plan.
My husband insisted on a third opinion. These doctors also agreed with the diagnosis but not the treatment. They suggested an autologous stem cell transplant with a trial chemotherapy regimen. I felt comfortable with this option, so I relocated to another state for three months to have the autologous transplant.
In April 2015, I learned the transplant was unsuccessful. I was devastated, and I was running out of options. My doctors suggested a CAR T-cell immunotherapy trial. My local hospital didn't have a CAR T-cell immunotherapy trial available, so I called the hospital where my last transplant had been done. They had one open spot, so I hopped on a plane to see if I qualified for this trial. I was a perfect fit. On July 13, 2015, I was the third person in the world to take part in a CAR T-cell clinical trial.
My T cells were removed through apheresis. That took about two weeks. In the meantime, I started the conditioning treatment. As had happened with previous chemotherapy treatments, I again had side effects from chemotherapy. I lost my hair four times, lost my taste buds and had mouth sores, neuropathy and pigmentation on my skin, among other things.
During my eight-day hospital stay to receive my T cells, they monitored me closely for side effects. One was neurotoxicity, which they explained as "mental confusion for an unknown period of time." They told me I might not remember things like my kids' names. Although they said it wouldn't last, the thought of it scared me. To monitor my mental status, they asked me the same questions every day, like my son's name, or if I could write a sentence. For about 24 hours, I got everything wrong. I told them my son's name was "Spanish" (his name is Hudson), and I could only draw squiggles when I was supposed to write a sentence. I don't remember any of that, but, they were right. My memory came back.
My husband was an amazing caregiver and advocate. He worked hard to keep things normal for the kids, and we hired a nanny. His pharmaceutical sales background was an asset as he researched and came up with questions for my medical team.
Not everyone has someone like him, which is why it's so important to be your own advocate. For example, I dreaded getting a certain IV drug before my chemotherapy treatments. I had Restless Leg Syndrome every time, so I told my doctor about it. My doctor gave me an oral drug instead, and that did the trick. Your doctors want to make it better for you.
In March 2016, my doctor told me I was cancer-free. I'll have scans every three months for the next five years.
I thought being part of a clinical trial would terrify me, but it excited me. I knew it was my best chance at a cure. Now I'm a believer in clinical trials and so thankful I had the opportunity to help save lives by being a part of one.
Timing was everything, and I feel like I was guided in the right direction. If I had done the allogeneic transplant, I wouldn't have qualified for this trial. It just goes to show that even though there might not be options today, something might open up in a week or a month. You just can't give up.