Non-Hodgkin Lymphoma Survivor
A second opinion set this survivor on the right path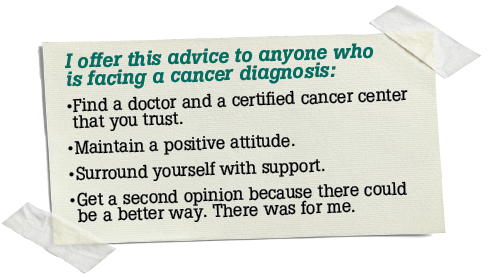 Non-Hodgkin lymphoma hasn't slowed down Mark McFall. The 63-year old attorney credits a skilled medical team, the support of his family and friends, and his faith with helping him manage his NHL diagnosis and treatment.
Around Thanksgiving in 2020, I couldn't even walk down a hallway without getting winded. A client, who is also a good friend and cardiologist, recommended I have an echocardiogram. After various tests and possibilities that ranged from fluid in my pericardial sac to a tumor in my colon, results from a CT-guided needle biopsy in an enlarged lymph node ultimately showed I had a form of lymphoma.
Learning about my diagnosis during the COVID-19 pandemic was especially hard. An oncologist in my small hometown delivered the news. My wife Stacey wasn't allowed to be in his office with me, so I was alone when he told me I had cancer. She was in the car on the phone and could see me through the window, but it was hard for her to understand the doctor on speakerphone through his mask. Frustrated, she hung up and I sat there like a deer in the headlights. All I really remember was that he kept repeating "mantle cell lymphoma" and he wanted me to get a port placed so I could begin chemotherapy right away.
Rushing to start treatment didn't feel right, so I sought a second opinion at a well-known cancer center about five hours away. After doing her own testing, the oncologist there sat down with Stacey and me and explained that I had a slow-growing, non-life threatening and very treatable and curable type of non-Hodgkin lymphoma called marginal zone, small B-cell lymphoma. It was not mantle cell lymphoma, which I later learned can have a more serious prognosis.
My treatment plan included an immunotherapy infusion along with an oral immunomodulator. Before starting, the doctor explained the side effects that could occur with immunotherapy. Fortunately, I only experienced these after my first infusion. I began shaking and my muscles tensed up. Though I was freezing, I spiked a high fever. The medical team took care of me right away with medications and warm blankets. Since then, before each infusion, I've been given two over-the-counter medications – one for pain relief and the other for allergic reactions – and I have had no additional problems at all. We made the five-hour drive for the infusions five weeks in a row before moving to monthly.
I'm grateful for the excellent care I'm getting from my health care team and cancer center. That facility is filled with kind and helpful people, from the guy in the hall that points us in the right direction to the patient advocate assigned to my case. Once my treatment plan was in place, the patient advocate proactively researched resources to help reduce the cost of one of the drugs. She contacted the drug manufacturer, filled out a grant application and was able to reduce my copay significantly.
After I began treatment, I learned that the hospital in my hometown was not certified to treat with immunotherapy. Had I stayed there, I would have had a completely different treatment plan. I hate to think where I might be right now if I hadn't trusted my gut and gotten a second opinion.
Right from the beginning, I adopted a positive attitude. My wonderful wife and I have had many ups and downs in our marriage, and we haven't let anything beat us. God has my back, and I believe I can do whatever it takes to be well.
Family and friends are so supportive. Stacey has done most of our NHL research. I've lost quite a bit of weight, likely due to the cancer and its treatment, and she constantly looks for ways to help me stay healthy through nutrition and supplements. My friends offer moral support and some really intelligent advice. My colleagues in the legal community have been very accommodating, so I really haven't had to adjust my schedule much at all.
I haven't felt this good in years. It made me realize how bad I actually felt before the diagnosis. According to my doctor, I am responding just exactly like she hoped. If everything stays on track, I could be in remission in a matter of months. We've discussed the fact that NHL can come back. If it does, we will fix it again.