Download Your Complete Guide Today!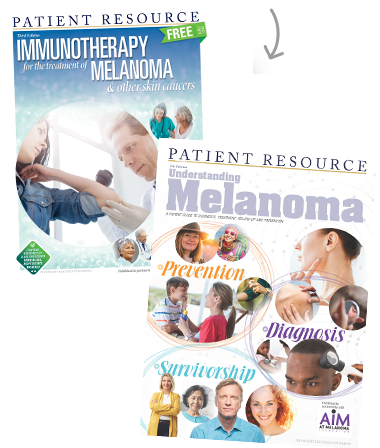 DOWNLOAD NOW
DOWNLOAD IMMUNOTHERAPY
Melanoma
Advocate For Yourself By Searching For A Clinical Trials
As medical and scientific teams continue to learn more about melanoma and how it grows and spreads, they test new and improved treatments by conducting clinical trials. Clinical trials provide reliable results about new treatment options that offer hope for many people diagnosed with all stages of melanoma. You should ask your doctor about the availability of clinical trials that might apply to your situation.
Clinical trials are research studies that may be conducted to evaluate new methods for different areas of cancer care, including disease prevention, patient screening, diagnostic tools and procedures, genetic risk factors and lifestyle or behavioral changes that may improve health and/or quality of life. This includes testing drugs, biologics and other non-medication therapies such as radiation therapy and surgery, medical devices, screening approaches and other interventions. Trials may also evaluate patient-reported outcomes, which are important to improving the quality of patient care.
From early-stage to metastatic melanoma, hundreds of melanoma trials are currently underway. Areas of research include identifying drug therapies to treat genomic mutations; evaluating the benefits of certain drug therapies used alone, in combination with other therapies or in a different order; treatment benefits and side effects of certain types of radiation therapy; treating metastatic melanoma; and vaccinations, among others.
Receiving your cancer treatment through a clinical trial may offer you the following:
Access to state-of-the-art cancer treatment that is not available outside a clinical trial.
A high level of care from being monitored by the clinical trial's medical team in addition to your regular oncologist.
A role in advancing cancer research by helping to improve treatment options for future patients.
As with any cancer treatment, a clinical trial presents potential risks and side effects. It may require more medical appointments and/or tests than you would ordinarily have scheduled. Ask in advance to make sure you'll be able to rearrange your schedules for work, school, family commitments and other obligations to accommodate the appointments needed to meet the trial's requirements.
As you and your doctor discuss the potential treatment option of a clinical trial, keep in mind that many trials take place at the same time in a variety of locations, making it difficult for your doctor to know about all of them. It takes research, and that's where you come in. While your health care team is exploring potential trials, you can look for them online, too.
Navigating some sites can be confusing. To help prepare you for the different search sites available, we've created mock screens below to show you what you may see as you look for a trial that may apply to you.