Download Your Complete Guide Today!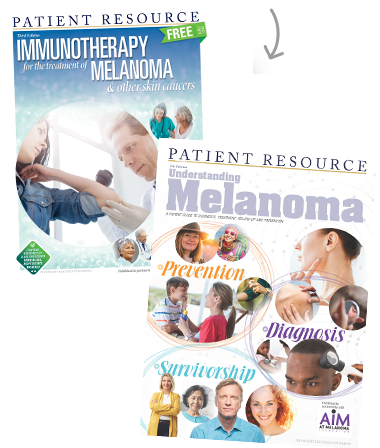 DOWNLOAD NOW
DOWNLOAD IMMUNOTHERAPY
Melanoma
Resources
Many advocacy groups are dedicated to bettering the lives of people with melanoma. These nonprofit organizations are typically founded by people touched by melanoma with a goal of providing support to survivors, raising awareness of the disease, and increasing funding for research. You can find a wealth of resources on the websites of these advocacy groups, including educational materials on melanoma and its treatment, news on the latest research, information on support groups, and online forums. Some organizations provide links to search for melanoma clinical trials, and others post survivor stories. With most advocacy groups, you can sign up to receive news updates directly by email and can follow the groups on social networking sites (such as Facebook and Twitter). In addition, many advocacy groups coordinate local fundraising events that can bring you closer to others who share similar experiences. For advocacy groups that may assist you with your cancer journey, click here.
Hundreds of cancer advocacy groups and other nonprofit organizations offer financial and social assistance to people with melanoma. Click here to view a list that categorizes the names of the organizations according to the type of financial assistance they provide. Some organizations are listed under more than one heading. Your oncology social worker, hospital patient-services representative, local cancer organization and local United Way can guide you to additional resources of financial assistance, especially sources in your community.