U.S. Medical Advisory Board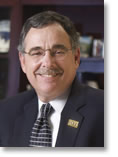 Donald L. Trump, MD, FACP
Dr. Donald L. Trump is a medical oncologist specializing in treating genitourinary cancers with a particular focus on prostate cancer. Dr. Trump is a Diplomate of the American Board of Internal Medicine, with Subspecialty Boards in Medical Oncology, and a Fellow of both the American Society of Clinical Oncology and the American College of Physicians.
 Dr. Trump earned his medical degree from The Johns Hopkins University School of Medicine in 1970. From 1970 to 1975, he completed an internship and residency training in Medicine and a fellowship in Oncology and served as Chief Resident in Internal Medicine at The Johns Hopkins Hospital.
 Dr. Trump is past Secretary/Treasurer of the American Society of Clinical Oncology and is a member of many professional and scientific societies. He is a reviewer and/or member of the editorial board of prestigious journals, such as the New England Journal of Medicine, Journal of National Cancer Institute, Cancer, Journal of Urologic Oncology, Clinical Cancer Research, Patient Resource Cancer Guide, Cure, Oncology, American Journal of Clinical Oncology, Cancer Chemotherapy and Pharmacology, Cancer Research, and Journal of Clinical Oncology. Dr. Trump has authored or co-authored more than 300 journal publications, book chapters and abstracts.