U.S. Medical Advisory Board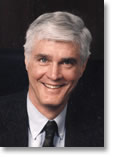 Paul A. Bunn, MD, FACP, FASCO
Education
Amherst College – 1967
Cornell University Medical Center
New York, NY – 1971
Bio
In 1984, Dr. Bunn was recruited to the University of Colorado Health Sciences Center as a Professor of Medicine in Medical Oncology and Head of the Division of Medical Oncology. In 1986, Dr. Bunn became the Director of the University of Colorado Comprehensive Cancer Center. Dr. Bunn has been President of ASCO, IASLC, and AACI, chairman of the FDA Oncology Drug Advisory Committee, and is currently the Executive Director of the IASLC.
Research
Dr. Bunn's research interests focus on novel therapies for lung cancer. He has published more than 300 articles in peer-reviewed journals, 122 reviews and 90 book chapters on lung cancer. Dr. Bunn's studies have set standards for the treatment of lung cancer, have identified issues of natural history and have identified biomarkers of prognosis and therapy selection. Dr. Bunn is the principal investigator on numerous national and local therapeutic trials and is also the principal investigator for the SPORE grant in lung cancer that is designed to conduct translational research.
Publications
Hirsch FR, Varella-Garcia M, Cappuzzo F, McCoy J, Bemis L, Xavier AC, Dziadziuszko R, Gumerlock P, Chansky K, West H, Gazdar AF, Crino L, Gandara DR, Franklin WA, Bunn PA, Jr. Combination of EGFR gene copy number and protein expression predicts outcome for advanced non-small-cell lung cancer patients treated with gefitinib. Ann Oncol 18(4), 752-60, 2007.
Frederick B., Helfrich B., Coldren C., Zheng D., Chan D., Bunn P.A., Jr, Raben D. Epithelial to mesenchymal transition predicts gefitinib resistance in cell lines of head and neck squamous cell carcinoma and non-small-cell lung cancer. Mol Cancer Ther 6:(6), 2007.
Funding
University of Colorado Cancer Center Support Grant: NIH/NCI 4/4/97-1/31/11. $2,832,858 - 45% effort. The major goals are to contribute, through a coordinated research, clinical treatment, control and education effort to the eventual elimination of cancer as a human health problem and provide the citizens of the State of Colorado and the Rocky Mountain Region with state-of-the-art cancer therapy, research, control and education programs.
SPORE In Lung Cancer: NIH/NCI 09/30/1992 to 04/30/2013. $1,600,999 - 25% effort combined
The major goal of the overall project is to establish a Specialized Program in Research Excellence (SPORE) in Lung Cancer to expand our understanding of the biology of lung cancer, to find new methods of diagnosis, prevention and treatment and to serve as a regional, national and international resource for the study of lung cancer.