U.S. Medical Advisory Board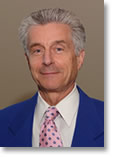 Nicholas J. Petrelli, MD
Dr. Nicholas Petrelli is a Professor of Surgery in the Department of Surgery at Thomas Jefferson University and the Bank of America Endowed Medical Director of the Helen F. Graham Cancer Center and Research Institute at Christiana Care Health Systems, Newark, Delaware.
Dr. Petrelli has been active on numerous advisory panels, including the American Society of Clinical Oncology Expert Panel on Colorectal Cancer Surveillance and the National Cancer Institute Colorectal Cancer Consensus Working Group. He is a member of a number of professional organizations, including the Society of University Surgeons, the American Surgical Association, the American Society of Clinical Oncology, and the Society of Surgical Oncology. He is the past President of the Society of Surgical Oncology and past chair of the Colorectal Committee of the National Surgical Adjuvant Breast and Bowel Project (NSABP).
Dr. Petrelli has authored 335 manuscripts in peer reviewed journals and is the editor of the Surgical Oncology Clinics of North America. He is an associate editor for the Annals of Surgical Oncology and a co-editor of Surgical Oncology.
Dr. Petrelli earned his undergraduate degree from the University of Notre Dame in 1969 and his medical degree from Tulane Medical School in 1973. He completed his general surgery residency in San Francisco in 1978 and post doctoral training in surgical oncology at the Roswell Park Cancer Institute in 1980. He spent the ensuing 21 years at the Roswell Park Cancer Institute during which time he was appointed Chair of the Division of Surgical Oncology and Director of the Surgical Oncology Fellowship Program from 1991 to 2001.
He has been married to his wife Cathy for 38 years and they have two children, Nicole and Gabriella. Nicole has degrees in criminal justice and forensic science and Gabriella in psychology. Dr Petrelli continues to enjoy Delaware beach time with his family and the rich history of the Delaware Valley. He has family in the New York City area, making it convenient for spur of the moment visits. He also has two nephews, Doug and Justin, who keep him young at heart with visits to Midtown Manhattan.