U.S. Medical Advisory Board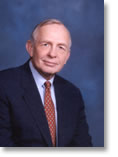 Richard B. Reiling, MD
Dr. Richard Reiling is a native of Dayton, Ohio and received his undergraduate education at the University of Dayton. In the interim between undergraduate studies and medical school, he was a high school teacher, the beginning of a life-long avocation for teaching. After graduating from Harvard Medical School he completed training in surgery at Harvard and an oncology Fellowship at the Lahey Clinic.. He served in the USAF during the Vietnam conflict era. Dr. Reiling entered private practice in his hometown at the same time that a new medical school was being formed in Dayton. He became a charter faculty member at Wright State University School of Medicine and remains on that faculty throughout his career. Currently, Richard is a Clinical Professor of Surgery at Wright State.
Dr Reiling's personal interest has always been in the care of patients with cancer, especially those with breast cancer. He was instrumental in developing a cancer program at his main hospital, Kettering Medical Center, named after the inventor Charles F. Kettering and located on the lawns of the former Kettering estate. The hospital was shortly thereafter recognized by US News and World Report as one of the nation's top 50 hospitals for cancer care. During this time he continued a very active practice as well as a busy teaching schedule.
In the summer of 2000, he was recruited by Ohio Health's flagship hospitals in Columbus, Ohio as the VP for Cancer Services. During the next several years, Dr. Reiling provided the support and leadership to bring that institution's cancer program to a high level of recognition in a community that already had a major cancer hospital as part of Ohio State University.
He found an offer to a similar position as the Medical Director of the Presbyterian Cancer Center too good to not accept. The position at Presbyterian and the beauty of the city was enough for the Reilings to give up their Ohio roots and move to the Carolinas.
Dr. Reiling has worked diligently to develop programs that improve the care of patients with cancer. In addition to breast cancer, he is especially active in lung cancer. It is in this situation that he has a very strong interest in the prevention of lung cancer and other respiratory diseases related to cigarette smoke. He has served with SmokeFree Mecklenburg for several years and often speaks and writes about the hazards of second-hand smoke.
Dr. Reiling has served on many professional society boards and committees, including the President of the Ohio Chapter of the American College of Surgeons and a Governor of the American College of Surgeons. Currently, he is the Second VP-Elect of the American College of Surgeons. In addition, he has served on many community and church organizations including the United Way, and the Dayton Opera Association. In his spare time, he was able to be a Boy Scout Master for a troop in Kettering Ohio, and proudly lists many young men who became Eagle Scouts during his tenure. Currently he serves on the Mecklenburg Council of the Boys Scouts of America, along with other civic boards. He is a member of the Charlotte Rotary Club.
Dr. Reiling is married to his childhood sweetheart, Liz, and celebrated their 44th anniversary this June. The Reilings have two grown children, Maureen DeBlois, a senior hospital executive in Atlanta, and Richard B. Reiling Jr., an attorney in Boston. The Reiling's have 3 grandchildren. Richard enjoys golf, skiing, and just being involved.