Download Your Complete Guide Today!
DOWNLOAD NOW
SPANISH DOWNLOAD
Cancer Immunotherapy
Understanding Clinical Trials
Within the past few years, immunotherapy has become an intensive area of clinical trials research. The resulting advances have led to approvals for several new drugs and drug combinations, providing more treatment options – and more hope – to people diagnosed with many types of cancer.
As you consider clinical trials, keep in mind that so many take place at the same time in a variety of locations that it is difficult for your doctor to know about them all. So in a variety of locations that it is difficult for your doctor to know about them all. So while your health care team is exploring potential trials, you can, too. To help you get started, follow these step-by-step instructions.
1. Gather your exact diagnosis, pathology report, any imaging reports (such as from CTs or MRIs) and details of previous cancer treatments to help determine if you meet the basic eligibility criteria. Consider asking friends or family members to search as well.
2. Know where to look. Clinical trials search sites are hosted by a variety of organizations, and no single site contains every open clinical trial. New trials are continually being added, so check back often. You may also choose to keep searching while moving ahead with your treatment plan. Some internet sites that maintain up-to-date information on clinical trials are listed below.
3. Once you and your doctor find a clinical trial, it's important to know next steps. Although every clinical trial is different, most follow a general process. Your eligibility will be assessed when you and/or your doctor first contact the clinical trial coordinator to express interest and learn more details. If you are a likely candidate, you'll meet with the principal researchers to further determine your eligibility and answer your questions about the study. You may meet the clinical trial team, which may include doctors, nurses, specialists, the trial coordinator, social workers or other health care professionals. A physician trial investigator will enroll you in the trial and is responsible for the conduct of the trial.
4. Before entering the trial, you will be given an Informed Consent form that provides detailed information about it. Review the document carefully. Consider sharing it with loved ones. Discuss anything you don't understand with your anything you don't understand with your doctor. Before you sign the Informed Consent form, contact your insurance provider to find out which procedures, tests, followups, etc., are covered and which you may be required to pay out of pocket.
5. Continue to be your own advocate. After you begin a clinical trial, keep asking questions and alert your health care and trial teams about new symptoms and side effects. And remember, you may choose to leave the trial at any time, for any reason, and return to standard of care.
---
GETTING STARTED ON YOUR ONLINE SEARCH
Be an active participant in your own care by researching available trials online. These instructions will help guide you through the process.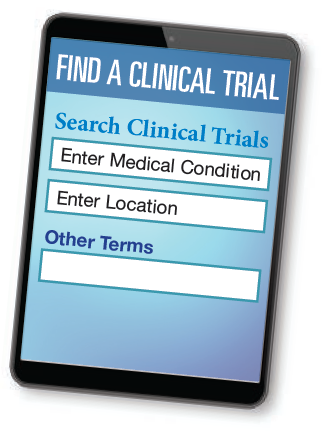 [STEP 1] FILL IN YOUR INFORMATION
Enter Your Diagnosis
For example, enter "colon cancer." To create more options, you can also conduct a search for "advanced colon cancer," then compare results.
Desired Location
If you prefer a clinical trial close to home, enter your home address. Enter additional locations if you're willing and able to travel for treatment.
Other Terms
You can refine your search even more by adding a particular treatment type or genomic mutation. You can also add a National Clinical Trial identifier, which is a unique eight-digit code preceded by "NCT" that is assigned to each trial.
[STEP 2] READ YOUR SEARCH RESULTS
Recruitment Status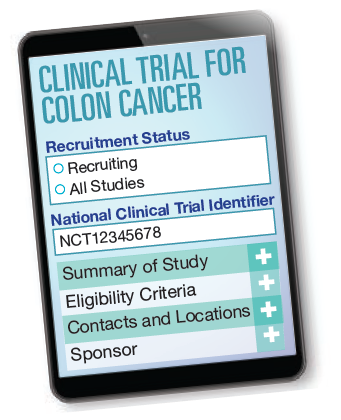 This indicates whether the trial is actively seeking patients, not yet recruiting or is otherwise inactive. The status will change, so check for updates.
Summary of Study
Here you'll find details about the purpose of the clinical trial and the treatment being studied. This section is usually written for health care providers, so it being studied. This section is usually written for health care providers, so it may be difficult to interpret. In that case, print out the information to discuss with your doctor.
Contacts and Locations
This may contain contact information for the clinical trial investigators, staff or sponsors, who may be able to provide more details about the study.
Sponsor
This is the entity responsible for the clinical trial. It may be a pharmaceutical or biotechnology company, a university, the National Cancer Institute or others.