Download Your Complete Guide Today!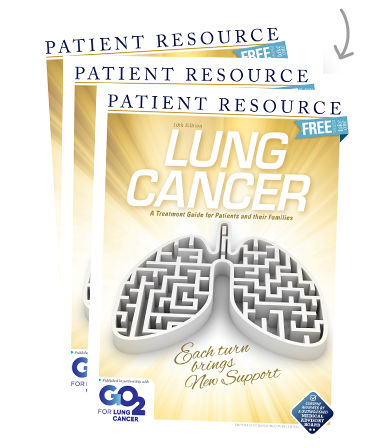 DOWNLOAD NOW
ORDER FREE COPIES
Lung Cancer
Caregiving
You may have decided to assume the role of caregiver for a loved one who has lung cancer. This may seem like a natural choice because you will be taking care of someone you love. Still, caregiving is a process, and it can be challenging. It will help immensely to have a plan in place, along with resources to remind you that you don't have to do everything yourself. As you take on these responsibilities, remember that your dedication, time and support have the power to make a significant difference in your loved one's life. The following suggestions can help you get started.
Do Your Research
Learning as much as you can about the specific lung cancer diagnosis and treatment plan will enable you to become a valuable resource. Your loved one may feel more comfortable asking you questions, and educating yourself about the situation may enable you to ease their fears about their condition.
Begin gathering information by reaching out to the nurse navigator, doctor, nurse or another member of the team. Building strong relationships with the health care team paves the way for comfortable and open communication. However, before they will communicate with you about any patient-specific information, you must be authorized to receive and share certain information about your loved one. If you have not signed the appropriate forms or are unsure whether you have, a member of the team can assist you.
Some key questions to ask include the following:
What lung cancer education resources are recommended? They can provide names of reliable websites and advocacy groups that offer accurate information. Also see Assistance resources on page 16.

Are resources for caregivers available? Although part of your work as a caregiver involves responding to your loved one's concerns, keep in mind that you do not need to know the answer to every question. Educating yourself is important, but don't put too much pressure on yourself. Simply being there is also comforting.

Are telehealth appointments an option? These can be helpful on days when your loved one does not feel well enough to leave home. They are also more convenient if you live far from a medical office, in addition to limiting possible exposure to infections in clinics.
Manage your Information
An important aspect of caregiving is the organization and management of the information you have gathered.
Once you are cleared to give and get information, do the following:
Log on to the medical portal. It is an easy way to communicate with the medical team, especially for topics that are not time-sensitive.

Use a tracking tool to ensure all medications are taken on time and in the right amount.

Track symptoms and side effects with detailed notes about the frequency, intensity and duration. Indicate whether anything helps to relieve them. Take this log to doctor's appointments to use as a reference point for questions you or your loved one may have. Make a special note of any specific symptoms that could warrant a call to the doctor.

Keep an organized calendar of doctor's appointments and any other important medically-relevant dates. A shared calendar allows everyone who needs to be informed to be kept apprised of this important information.

Choose a format for updating family and friends. Key updates can be shared via email or online. This allows everyone to be informed at once and prevents you from having to communicate with friends and family on separate multiple occasions. Make sure your loved one is comfortable sharing information and approves who is receiving it.
Focus on Yourself
Though you are concentrating on providing care during this difficult time, you must remember to take care of yourself. If you don't, you won't be a productive or effective caregiver, and your own health may suffer.
Make time for the following:
Eating right. Following a healthy diet takes planning. Choose foods that will offer the nutrients you and your loved one need to maintain strength.

Exercising. Even a daily 10-minute walk can rejuvenate your mind and your body.

Keeping medical appointments. Schedule and keep your own appointments and preventive screenings.

Delegating. Accept offers of help from trusted friends and family. Create a list of tasks that can be done by others, such as grocery shopping, making meals, helping with pet care and carpooling. Friends and family want to help; allow them to do so.

Maintaining your personal life. It is OK to limit certain activities and social events, but do not completely cut them out of your schedule. Look for easy and safe ways to connect with friends. Pursue a hobby or creative outlet that will offer a mental break from the stress caregiving can cause.

Exploring online support groups and resources that are available for caregivers. They can serve as a reminder that you are not alone, and you can learn a lot from others who are in similar situations.