Download Your Complete Guide Today!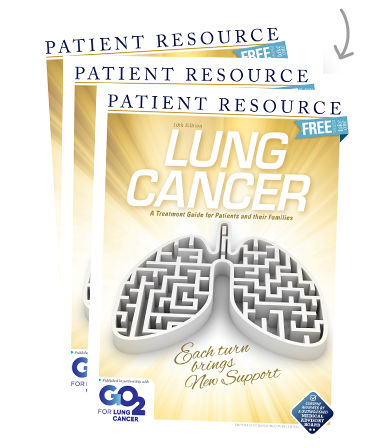 DOWNLOAD NOW
ORDER FREE COPIES
Lung Cancer
Finding Your Source of Support
GO2 Foundation for Lung Cancer (go2foundation.org) is the result of a 2019 merger between the Bonnie J. Addario Lung Cancer Foundation (ALCF) and the Lung Cancer Alliance (LCA). With more than 30 years of combined experience serving the lung cancer community, GO2 is dedicated to saving, extending and improving the lives of those vulnerable, at risk and diagnosed with lung cancer.
"A lung cancer diagnosis can be overwhelming," said Danielle Hicks, Chief Patient Officer (CPO) at GO2 Foundation for Lung Cancer. "I can speak to that firsthand. When my mom, Bonnie Addario, was diagnosed in 2003 with Stage IIIB non-small cell lung cancer, we couldn't believe how hard it was to find relevant, current and reliable information."
Empowering the patient community and their loved ones through education is a key goal of GO2 Foundation. As CPO, Danielle oversees patient education and support services and collaborates across the organization to advance the foundation's mission and goals. She and her team work hard to ensure that the programs and resources they deliver make a difference in the lives of individuals affected by lung cancer.
Patient Support is Paramount
GO2 Foundation knows that when people are first diagnosed, they develop their circle of support. This may include family, close friends, neighbors, co-workers and others. It is important to find a source of trusted information, education and, if possible, a connection to people who have also experienced lung cancer — this is where GO2 Foundation delivers.
"We believe the best thing a patient or loved one supporting a patient can do is become educated about the disease. Knowledgeable patients do better overall, so we provide them with useful tools. We also believe in empowering patients and families to become their own advocates so they can participate as informed members of their health care team."
To ensure GO2 Foundation delivers the most valuable information, they listen to the community and then create resources, materials and programs based on need.
"That is probably my favorite thing about our organization. We put our patient community first. We listen to them and include them in our decision-making. They are at the heart of everything that we do."
GO2 Foundation offers a variety of supportive resources designed to help patients, family members and caregivers.
One-on-One Support
The HelpLine connects patients with caring and experienced professionals ready to provide one-on-one support, education and referrals to find the best care possible. An extension of the HelpLine is the LungMATCH program, where experts help patients and their loved ones understand the latest treatment options, access biomarker testing and find appropriate clinical trials to discuss with their health care team.
HelpLine staff can help prepare patients to speak to their health care providers. One timely example involves the expanded option of online appointments.
"Telehealth is making it easier for patients to talk to their health care team remotely. Now patients often have the choice to use a video call to report a rash or phone in their side effects. Although this is a flexible approach to a doctor's appointment, not everyone knows how to take advantage of these opportunities. Our team can help patients and caregivers navigate these waters and access remote support resources."
Phone Buddy connects patients with individual volunteers that have been through a similar diagnosis to help guide and mentor them with practical information, hope and support.
Community Connections
The Lung Cancer Living Room is a place where patients, caregivers, health care providers and industry partners can meet in person and interact with live, online presentations from lung cancer physicians, researchers and key experts.
"The meeting is typically available every month via Facebook Live and YouTube or in person in GO2 Foundation's San Carlos, CA, office," Danielle said. "When possible, we offer regional events and, when unique situations occur (such as the COVID-19 crisis), we pivot to increase the frequency of Living Room sessions on topics of immediate importance to patients. During the recent crisis we offered discussions on telemedicine, science and research adaptations, federal health care policy and regulatory changes, and coping/psychosocial support."
The organization also provides the lung cancer community access to state and regional support groups offering psychosocial support in a local setting. Online support community platforms Belong and HealthUnlocked allow patients and caregivers to connect, learn and support each other simply by joining and participating.
Patient Education Brochures
Patient education materials, available both digitally and in print, provide customized information for patients and caregivers regardless of their type or stage of disease. Materials are available in English, Spanish and Simple Chinese.
These free GO2 Foundation services are available to each patient and their support circle.
As they continue to provide more valuable resources to the patient community, GO2 Foundation works to change the reality of living with lung cancer by ending stigma, increasing public and private research funding, and ensuring access to care even for the most vulnerable communities.
Danielle emphasized, "Our approach is to break barriers to save lives. Lung cancer can impact anyone, and when it does, we are there for them."