Download Your Complete Guide Today!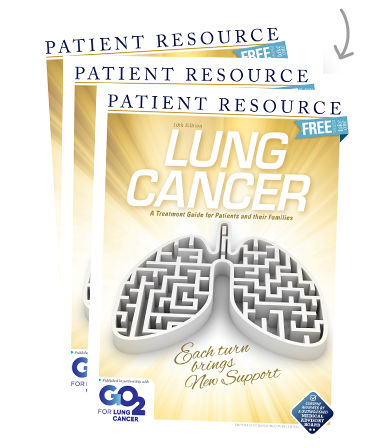 DOWNLOAD NOW
ORDER FREE COPIES
Lung Cancer
Meet the health care team
A multidisciplinary team will be involved in your care. It may include the following highly skilled professionals.
Medical oncologists treat cancer with drug therapy and other medications.
Surgical oncologists operate to remove cancer tumors and have special training in performing biopsies.
Oncology nurses provide inpatient or outpatient care in a cancer treatment facility.
Pulmonologists are doctors who have special training in diagnosing and treating diseases of the lungs.
Thoracic surgeons operate in the chest.
Thoracic radiologists are experts at imaging the chest and metastatic sites.
Respiratory therapists are health professionals trained to evaluate and treat people who have breathing problems or other lung disorders.
Radiation oncologists treat cancer using radiation therapy.
Patient navigators/nurse navigators serve as guides throughout the continuum of care, from diagnosis through treatment and follow-up. These patient advocates help identify barriers to treatment such as the need for transportation or help with copays and deductibles, and accessing resources to resolve such barriers.
Palliative care specialists work to provide physical and emotional relief for cancer symptoms and treatment-related side effects.