Lung Cancer
Clinical Trials
Results of clinical trials help researchers learn more about what causes the various types of lung cancer and how to most effectively treat them. Much of the focus includes identifying biomarkers and applying therapies to treat lung cancer with those specific markers. Research also continues to find treatments for lung cancers that do not exhibit a specific biomarker. As a result, patients with lung cancer now have more potential treatment options with increasingly promising outcomes. 
What are Clinical Trials?
Most of the therapies used to treat cancer today were once studied, evaluated and approved through the clinical trials process. Today, thousands of these research studies around the world continue to search for new and better ways to prevent, diagnose and treat cancer and its symptoms and side effects. Studies are evaluating the following:
Methods for disease prevention and patient screening
Tools and procedures to diagnose disease
New or improved treatments such as drugs and drug combinations
Medical procedures or devices
Lifestyle or behavioral changes that may improve health and/or quality of life
Your doctor may recommend considering a clinical trial at any of these times:
Before diagnosis if you are high risk
At diagnosis
If your cancer progresses
When choosing among available treatment options
If your current treatment is no longer performing as expected
To reduce side effects and improve your quality of life
Reasons to Consider Participating
A clinical trial may offer one or more of the following benefits: 

1. Access to state-of-the-art cancer treatments that are not otherwise available.
2. The best option if your cancer has become resistant to your current treatment, or if you have a rare type of cancer that has few, if any, approved treatments.
3. More care because you will be monitored by the medical team managing your trial as well as by your regular oncologist.
4. You will be a partner in cancer research, helping improve treatments for future patients. The need is great for more clinical trial participants; minority patients are particularly needed.
As with any cancer treatment, those in clinical trials present potential risks and extra time commitments. Ask your doctor about possible side effects and the schedule to accommodate the tests and appointments that are required for the trial.
Finding a Clinical Trial
Let your team know if you are open to considering a clinical trial. You can also search on your own. Once you find a potential trial, talk with your doctor. Keep in mind that some may be closed, and you may not qualify for every trial that interests you. Every participant in a specific trial must meet the same eligibility criteria. Common criteria include cancer type, subtype, stage, biomarker status and treatment history. Your age, gender and other health conditions may also be factors. For example, if a trial requires that you have already had a specific treatment and you have not, you will not be eligible. 
How to Search for a Clinical Trial
Before you begin, have your exact diagnosis, pathology report and details of your previous cancer treatments on hand to help determine if you meet the basic eligibility criteria. Then, start by using the list of clinical trial sites below. Your doctor may recommend additional sites.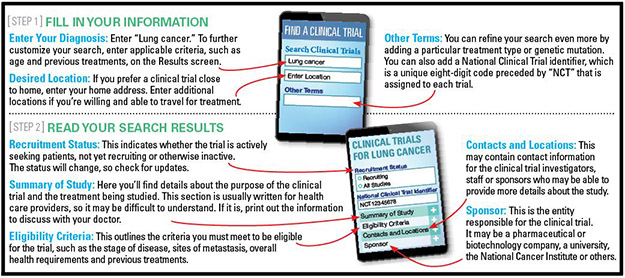 Clinical Trial Resources