Prostate Cancer Survivor
A match made in heaven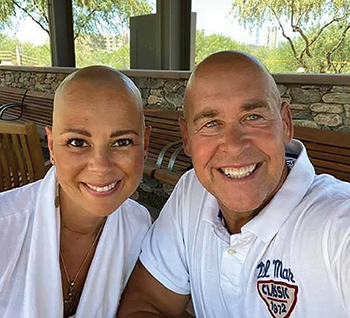 Chuck and Hannah Keels describe their love story as nothing short of miraculous. A self-described Stage IV prostate cancer thriver who shows no evidence of disease, Chuck feels uniquely prepared to help Hannah as she manages a Stage IV breast cancer diagnosis. They offer hope to each other and many cancer survivors as they follow their credo: Get up and live!
People who meet Chuck Keels now have a hard time believing he was diagnosed with Stage IV prostate cancer in 2015 but, at the time, it was a life-threatening diagnosis. He was told he had three months to live and that hospice was the only option.
"I was a 50-year old single dad of two boys," he said. "I gave away all of my belongings in Phoenix and planned to take my two boys back home to Ohio. On the day we were supposed to fly out, I heard 'pop!' and hit the floor. The trip was off."
In the ambulance on the way to the hospital, every bump was excruciating. The ambulance took him to a different hospital – not the one where he'd received his grim diagnosis – and the doctors there ran their own tests.
"I had a compression fracture as a result of the cancer metastasizing to my bones. But along with that bad news came some very good news from a medical team put together just for me. A hospitalist, oncologist and two spinal surgeons told me they wanted to fight my prostate cancer, and they had a plan that started with two surgeries the next day. I would have one to stop the testosterone production in my body and the other to insert a port for chemotherapy."
The surgeries went perfectly, and as he was lying in the recovery room, he remembers it got weirdly cold.
"I thought perhaps someone had left the big double doors open, but they were closed. I looked to the left and saw a man with a white scarf, beard and a brown robe. He put his hand on my shoulder. That day, all my pain stopped. I'd like to say my faith got me through it, but I wasn't a particularly religious person."
After three months of his prescribed six months of chemotherapy, his doctor said his scans looked like those of a healthy guy. His recovery continued, and he focused on healthy eating, juicing, using essential oils and exercising. He also surrounded himself with loving and supportive people.
"I started getting phone calls from friends, and friends of friends, who wanted to know how I beat Stage IV cancer. I began to share my story on Facebook about how taking an active role in the things I could control helped me mentally and physically. I wrote a book titled Hi…I'm Chuck, and even had a business card made that said "Cancer Coach." Before long, I had thousands of followers, something that almost prevented me from meeting Hannah."
"That's where my story begins," Hannah explained.
"Two days after Chuck's recovery room experience, I was moving with my husband and four boys to Phoenix. It was a huge move — new house, new school, new job and all that goes with that. Six months after the move, my husband left me. I cried for three months straight, then found a lump in my breast. I was diagnosed with Stage III breast cancer at 42. A month after being diagnosed, my divorce was final. A month after that, I had a mastectomy and the next month returned to my job as an operating room nurse."
Unfortunately, Hannah's cancer progressed to Stage IV, and she lost her job when she wasn't able to continue working in the same capacity because of the medications she was taking. A year later, her best friend passed away unexpectedly.
"I felt the weight of so much loss," she said. "I was looking for the lessons in it. I prayed about it and began writing a book to help work through my feelings. I'd never published a book, so a friend offered to connect me with her cousin who had just published a book about his cancer journey. I had a hard time connecting with him on Facebook, so I messaged him."
To Chuck's surprise, Facebook capped his friend list at 5,000, so Hannah couldn't friend him. Her message was automatically moved to a different mailbox, and he just happened to check it 30 days later.
He apologized for the delayed response to her message and suggested they get together for coffee. Hannah, however, had just left for an extended vacation in The Netherlands to visit family. She agreed to meet when she returned.
But instead of waiting for her to get home, they began messaging. And texting. And video chatting.
According to Hannah, they hit it off instantly.
"He made me laugh. We had so much in common — our kids, our faith, cancer. One night before we hung up, he hinted that I was the one for him, and he said, 'Goodnight, Mrs. Keels.' We hadn't even met in person!"
That didn't last long. He picked her up at the airport and they were basically inseparable. Six weeks later they were engaged; six weeks after that they were married.
"I wasn't looking for someone," Chuck admitted. "In fact, I was okay with the idea of growing old alone, but when I met Hannah, I just knew I wanted her."
Hannah wasn't looking for a new relationship either.
"The last one was too hard to get over, but our conversations just blew me away. We shared a solid foundation, and I decided I wanted someone to make memories with."
On their honeymoon, Hannah had an epiphany.
"I had lost so much: my home, my marriage, my best friend, my vocation and my health. But I got it all back in Chuck, and my mindset changed. I could dream again." Chuck helped Hannah publish her book, Faith Like Skin.
Just one month after their honeymoon, they began thinking of formalizing the coaching Chuck had started. After much research, they created Living Hope Cancer Foundation (getupandlive.org), a 501(c)(3). It's a forum for creating a positive spiritual mindset when you have cancer.
"We use our own experiences to help people make a personal plan that coincides with a medical plan," Chuck explained. "Aside from supporting the need for second opinions, we leave the medical part to the experts. A personal plan is something you need from the minute you get that diagnosis. Even driving home in the car that first day, most people are wondering what they do with this new information they just received."
Hannah is living her personal plan as she actively manages Stage IV breast cancer.
"In the first 14 months of our marriage, I had 5 ambulance rides," she said. "Five months after we got married, a tumor was discovered in my neck and I began to have new symptoms. My heart was racing, I was short of breath and my neck hurt. Those symptoms turned into agonizing pain the next day, and Chuck took me to the ER."
Because it was the beginning of COVID, Chuck couldn't go in with Hannah. He had to drop off her at the door.
"The ER was oddly quiet. It was very dark and nearly silent. After I had scans, I was told my neck was broken. The nurse asked me where my husband was."
Chuck was sitting in his truck in the hospital parking lot, waiting for news.
"I heard a knock on the window," he said, "and the nurse told me Hannah had a fractured neck and would need to be transported to a different hospital for emergency surgery. Watching them drive off in the middle of the night was a scary feeling."
Hannah had two surgeries — one to cut off the blood supply to the tumor and the other to fuse her vertebrae together. Because of the need for space in the ICU, she was able to recover at home. That took about 8 weeks.
"The honeymoon was over!" she laughed. "I came home in a neck brace, and radiation therapy and IV chemotherapy were next. I'd only had oral chemotherapy up until this point, but testing revealed a new treatment was in order for my triple negative diagnosis."
With the new treatment came hair loss. In solidarity, Chuck shaved his head.
"That really moved me because I know it brought back memories of his cancer fight," Hannah said.
Radiation therapy to target a node in Hannah's chest affected her esophagus. "I lost my voice temporarily, and I needed a feeding tube. That was hard for me because I love to sing and I'm a foodie!"
As they'd done in the past, they adapted and did what they could to get the most out of life. Hannah used floaties to stay above water in their pool, and they kayaked with strict instructions from Chuck that she not paddle — only ride and enjoy.
Not long after, Hannah suffered a compression fracture in her spine. She had spinal fusion surgery and spent four months in a wheelchair.
"It's hard to ask for help," she admitted, "and it's hard to lose your independence. Chuck was at my beck and call. He managed my pain meds, brought my toothbrush to my bedside. He did everything."
"It isn't often your caregiver knows exactly how to help," he laughed. "But her fracture was just below where I'd had mine, so I drew from my experience. We are here to help each other at different times in our lives, and I set a goal to be the best caregiver I could be."
Hannah's next challenge centered around the discovery of metastases in her brain and in her hip socket.
"I had radiation therapy to my brain and hip socket. After 26 days of bed rest, I was able to walk just one week after the radiation treatments ended."
Chuck continues to be impressed with Hannah's attitude.
"Every time she has a setback, she views it as temporary and just something to get through."
Using what has helped them through their journeys gives this inspiring couple purpose. Chuck gets the most satisfaction from hearing the hope and excitement in the voices of the people they coach. Before meeting Chuck, Hannah couldn't see past the next couple of years. Today, she sees far into the future, the two of them with gray hair, walking on the beach together.
Their advice to others: Get up and live!