Advanced Prostate Cancer Survivor
Diving into advocacy
Advanced prostate cancer survivor promotes early detection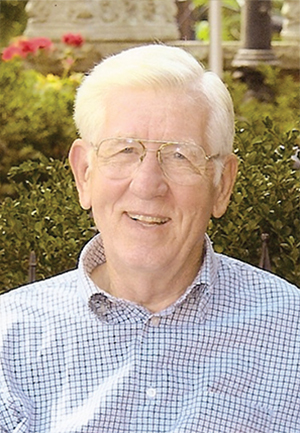 Herb Martin was enjoying his retirement by spending time with his four grown children and nine grandchildren. An active octogenarian, he was surprised to find after an annual PSA test that his levels jumped from 4 to 11. After further testing, he learned he had advanced prostate cancer that had metastasized to the bone. Four years later, he leads a life filled with fitness, family and a newfound passion for advocacy.
Suspicions that something was wrong began in December 2011, when my PSA level moved from 4 to 11 in one year. My urologist performed a DRE and said my prostate felt large and hard. After some biopsies, I got the diagnosis in January 2012 at age 82: Stage IV metastatic prostate cancer. The biopsies showed that the cancer was throughout the prostate. I never got my Gleason score, but a bone scan showed metastasis to the bone in my spine, ribs and hips. The doctors said I had two to five years left. That was four years ago.
When I heard my diagnosis, I felt disbelief. I didn't have a family history of prostate cancer, and I exercise regularly. In college, I swam competitively at the University of Iowa, and I've been an avid golfer and bowler. I didn't seek a second opinion because I had no reason to doubt the diagnosis. I was shocked just because I'd never felt weak and have always been active. My urologist referred me to an oncologist, and I saw a radiation oncologist for bone pain. I told my primary care physician, "You're the director of the orchestra. Keep tabs on all the other people on my medical team, and refer me to specialists. Tell all my doctors what's going on with everything."
I began hormone therapy in January 2012 and continue with it now. I get leuprolide (Lupron) every four months. Because my cancer was so advanced and had metastasized, hormone therapy was my only option. It was too late for surgery or radiation. I'm earnest about early detection and treatment. If you find out early, you can still have options. But even if you're facing a diagnosis like mine, survival is readily available. You just have to get treatment.
I have side effects from my treatment, but fortunately they haven't been too serious. Hot flashes have been a new experience for me. I also get chills, and when that happens, I can't put on enough clothes to get warm. You just can't get away from it. I also take zoledronic acid (Zometa), vitamin D and calcium for bone health. I continue with hormone therapy and have my PSA level tested every three months now. It's currently undetectable.
I'm a real proponent of early treatment and detection because you have more treatment options when the cancer is diagnosed early. I encouraged my 88-year-old brother to get screened. Sure enough, he had prostate cancer, but it was early enough that it could be treated with radiation therapy. He is currently cancer free.
I do my best to maintain good health. My immune system is not as strong, but it's working to protect me. I've altered my diet and don't eat things that would upset my stomach. I swim three times a week for an hour, which is good exercise for the lungs and heart. Swimming is great for people with bone metastasis because you can't fall. You're less likely to hurt your body swimming than doing a lot of other exercises, and it helps my mood.
My love of swimming led me to be involved with Drown Out Cancer, an organization that raises money for cancer research by holding an annual swim-a-thon. For the 2013 swim-a-thon, I swam 84 laps in a 25-yard pool, which is over 4,000 yards. In 2015 I swam 85 laps. I'm also the treasurer of Drown Out Cancer, which is a great fit because I used to work as a CPA.
In addition to my work with Drown Out Cancer, I speak to community groups to urge men to get tested. Again, communicating the urgency of early detection and treatment is my goal for other people. A lot of men tell me they don't want to know if they have prostate cancer because they have quality of life concerns. The women in their lives ask me to encourage them to get tested. I advise all of them that there's a lot more to life than sex, and they can enjoy it. Be here to watch their grandkids grow up, go to school and become what they can be.