Prostate Cancer Survivor
Optimistic metastatic prostate cancer survivor lives for each day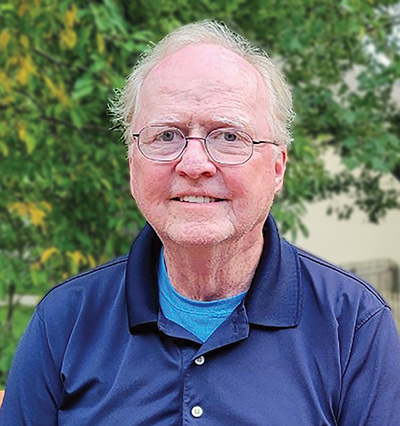 First diagnosed with Stage II prostate cancer in 2012, Mike Mulcahy remained in remission until January 2021. Follow-up testing showed an increase in his PSA level, and scans confirmed the cancer had metastasized. After returning to treatment, the disease is now stable. Despite the recurrence, he is optimistic, positive and realistic. He enjoys life with his wife, who is a breast cancer survivor, and his grandchildren.
After being diagnosed with aggressive Stage II prostate cancer in 2012 and successfully completing proton radiation and hormone therapy, I had regular follow-up appointments to check my PSA level. For 9 years, my PSA remained at .3 or .4. In January 2021, as I was heading in to get my routine PSA level checked, I chuckled to myself that "I've got this cancer taken care of because it's been too long since I originally had it." I thought I was in the clear. But after the appointment, my doctor called to say my PSA had gone from .3 to 1.7.
The doctor said the lab sometimes makes mistakes, and he wanted me to come back in a week for another PSA test. The second result showed my PSA was now 2.1. It was rising very fast. The doctor ordered a PET and bone scan. They found lesions on my pelvic bone that confirmed I had metastatic prostate cancer.
The first words out of my mouth were, "Oh, crap!" I knew immediately what I was up against. I had mentally prepared for it to return one day, but I wasn't expecting it. I reminded myself that even with metastatic cancer, I would not die tomorrow.
I am being treated at my local Veterans Affairs (VA) hospital because I served in the Marine Corps during the Vietnam War. There are some days you will never forget in life, and one of mine was when I was in Okinawa, Japan, getting ready to be sent to Vietnam. While I was packing my duffel bag, the overhead speakers were broadcasting Neil Armstrong's landing on the moon. I remember thinking, "They put a man on the moon, and down here I'm going to war." It was a surreal moment.
Like most men who served in Vietnam, I was exposed to Agent Orange, which is known for causing up to 12 types of cancer. My VA has extensive experience treating men with prostate cancer, and I feel I'm getting the best care.
To keep the cancer stable and reduce the risk of it spreading, I'm on a hormone therapy regimen. So far, this treatment is working for me. The lesions on my pelvis have shrunk to nothing, my PSA is 0 and I have no symptoms. I will continue getting my PSA level checked and will remain on my treatment for as long as it continues working.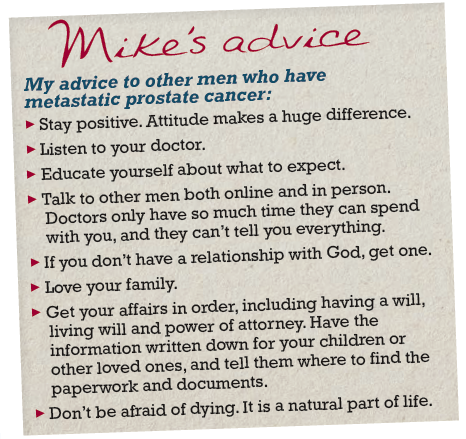 Regarding side effects, I occasionally have hot flashes at night but not during the day.
I call this cancer Sneaky Pete because it can come back when you least expect it. I have the mindset that I'm going to be living with metastatic prostate cancer and will be on disease management medications for the rest of my life. I've accepted it, and I don't worry about it. I have my affairs in order and I'm good to go whenever that is and for whatever reason.
Ironically, having cancer gave me a brighter outlook on life because now I have a better idea of when the end may come. Now when I wake up every day, I think, "What can I do to make my life meaningful?" I've decided to be optimistic and live life to the fullest.
My wife and I enjoy providing childcare for our five grandchildren, and I'm surrounded by my family. This keeps me going. I don't dwell on the rest.
Click here to read Carol Mulcahy's (his wife and caregiver) story.