Prostate Cancer Survivor
Former judge out-pedals prostate cancer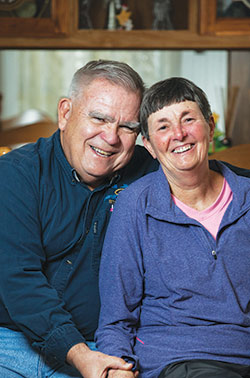 Former Kansas 4th District Judge James (Jim) Smith had been retired for seven years in 2013. He kept active traveling with his wife, Leila, volunteering at more than 20 professional cycling races across the country, helping out with his six grandchildren and driving a semitrailer truck for a friend's farming business. But during Jim's 2013 annual physical, his family doctor was concerned about the marked increase in his PSA (prostate-specific antigen) level. Additional testing determined he had prostate cancer, and that led to the subsequent detection of a malignant growth on one of his kidneys. Ultimately, early detection and carefully considered options were the keys to his successful outcomes.
I have been very fortunate. My dad and my brother both had prostate cancer, and I knew it happened to many men—so the diagnosis was not unexpected. It was just a matter of treating it. The kidney cancer I didn't expect.
I'm not medical, but when I looked at the MRI and saw the size of the cyst on my kidney, I knew I wanted to get it out. It was a relief that we found it early, however, and I wouldn't need radiation, chemotherapy or surgery.
At my initial annual physical, my doctor told me my PSA (4.8) was high for me. I knew PSA testing can be controversial, but it worked out to my advantage. We agreed to watch it that fall, and when it was still elevated, she arranged for me to see a urologist.
In January 2014, the urologist ordered blood tests and 12 days later called to tell me there was a good chance I had prostate cancer. We normally travel January through March, and the doctor told me it wasn't a rapid-growing cancer so we kept our travel plans. When we returned, additional tests including a CT scan and an MRI showed cysts on both kidneys. They were fairly certain the left one was malignant and scheduled me for surgery.
Just to be certain, we went for a second opinion. That doctor recommended a biopsy for the right kidney. Thankfully, that cyst was benign.
I went back to the original urologist and had robotic kidney surgery in June to remove the cyst. They were able to get all of the cancer – which turned out to be renal cell carcinoma – and it hadn't spread.
With that done, we turned our focus back to the prostate. My dad and brother had each chosen different treatments, as had many of the men I knew. I determined I wanted surgery to get it out quickly, and if all went well, I wouldn't need additional treatment.
However, I was frustrated that my first urologist wasn't communicating with me and I was nervous about my decision, so I sought another opinion. The new doctor reviewed everything and agreed that either option was appropriate. That set my mind at ease, and we scheduled the surgery.
I had robotic surgery again and went home with a catheter that stayed in for a week and a half. I couldn't lift anything heavier than 10 pounds for six weeks and had to limit my activities for a month, but everything went well. I also have had no incontinence, which is something I was worried about. And just like the kidney cancer, this had also not spread.
Leila was my support all the way through, and I wouldn't have gotten along without her. We're very active, so the whole process has made me feel a little older than before, but I also enjoy the things more that I'm doing now.
My picture of a cancer survivor was of someone who lost his hair because of chemotherapy. I've been very fortunate to have avoided that, and I've been very satisfied with the way things have come along this far. I had heard the saying that prostate cancer is probably not going to kill you; something else will get you first. But when I thought about it, I didn't want to be in a tie race.
Click here to read Leila's story.