Sarcoma Survivor
Weathering the scariest of storms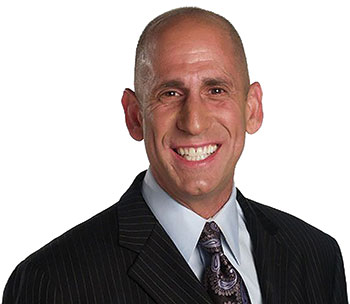 No one loves the mercurial Midwestern weather more than Gary Lezak. For over 20 years, the Kansas City meteorologist has passionately prepared his viewers for the days, weeks and even months ahead. Despite being known for forecasting the future, he was taken completely by surprise in 1999 when he was diagnosed with a rare form of cancer. The six-time Emmy award-winning weatherman kept working while fighting the battle against this disease, earning respect and encouragement along the way. Today, Gary is cancer-free and actively involved in his community, often sharing the spotlight with his beloved dogs – Breezy and Sunny, and in fond memory of Stormy who passed at the old age of 15.
I learned that I had cancer my first year on the job as Chief Meteorologist with the 41 Action News Team in Kansas City. The journey started when I was inline skating one afternoon. I fell down and broke my right wrist and during a follow-up visit I happened to ask about a lump above my other elbow — just out of curiosity.
Although it hadn't bothered me, my doctor seemed concerned and immediately ordered an ultrasound, followed by a biopsy. Two days later I was on my way to work when I received the phone call that I'll never forget. At the age of 36, I was diagnosed with Stage IV extraskeletal osteosarcoma, which my doctor explained was a very rare but highly aggressive form of bone cancer that develops in a person's soft tissue, and is therefore classified as soft tissue sarcoma. I'd noticed the lump before, but like most typical men, didn't go out of my way to have it looked at. My broken wrist was actually a huge blessing in disguise — who knows how long it would have gone undiagnosed and untreated had I not asked while already at the doctor's office?
Despite the poor prognosis that was typically associated with this type of cancer, I still had treatment options that would let me save my arm and hopefully my life. After the initial shock wore off, I was actually very optimistic. I quickly realized that this was an opportunity for me to lead by example and to encourage others in similar situations. Almost immediately, I shared my diagnosis publicly and was taken aback by the instant outpouring of love and support from my family, friends and fans. Every single bit of attention and encouragement was truly appreciated throughout the entire ordeal.
Treatment began right away and consisted of two separate surgeries to remove the tumor and surrounding tissue. I was then given an aggressive chemotherapy cocktail of doxorubicin (Adriamycin) and ifosfamide (Ifex) to kill any remaining cancer cells. The drugs were so strong that my immune system was zapped and I had to be extremely careful to prevent getting sick. The only other side effects were occasional nausea and the loss of my hair. Instead of being upset about losing my hair I was actually excited, because to me it was an indication that the drugs were likely working (which they were)!
When treatment ended, I went in for testing every two months for the first two years to make sure the cancer hadn't returned. When tests continued to confirm that there was no recurrence, I was able to reduce my follow-up visits to once a year. While I dreaded going in, nothing compares to the relief I felt when they told me I was still cancer-free: "your test is clear!"
I've been cancer-free since 2000 and was told in November of 2014 that I'm officially considered cured of this disease. I'll never be able to fully express the gratitude I have toward my doctor and medical team. The excellent care and compassion they showed me helped get me through the scariest time of my life.
We all know someone touched by cancer and many of us know someone who has passed away from the disease — my father passed away from bladder cancer. One of the messages I try to relay to people, though, is that cancer does not have to be a death sentence and early detection is the key. Stay current with your annual scans so that if you do ever have to deal with cancer, you can catch it and start fighting it as early as possible. I'm also a big believer in getting a second, third or even fourth opinion. Finding the right treatment team is crucial. It's a decision that shouldn't be taken lightly, so make sure that you feel completely comfortable with your doctors before accepting their advice.
When it comes to cancer, you are the one fighting it, but making sure that you're surrounded by positive people you can lean on along the way is extremely important. Even though you may feel like you want to go into hiding after being diagnosed, my advice is to do the exact opposite. Build a strong support system — a team of your family, friends and positive influences that can help keep you going when you need it the most. It also helps if you plan a vacation or something else to look forward to once your treatment ends. Creating that light at the end of the tunnel will help give you even more momentum to get to survivorship. I planned a trip to Hawaii and can't tell you how good it felt to get there and relax with those I love after all I'd been through.
Today I'm busier than ever with work, my dogs and volunteering, and I'm excited and proud to announce that my long-range forecasting theory, which allows you to prepare for events 12 weeks into the future, is now in the 1Weather app. It is based on the "Lezak Recurring Cycle" (LRC). This is something that I've been researching since the 1980s and now that it has finally come to fruition, it's a really great feeling. And we recently added another rescue pup to the pack. Sunny is the newest addition to the family and she is eager to learn tricks from her older sibling Breezy. I take them to schools to get kids excited about the weather and they often join me on set to brighten the mood.
Before my diagnosis, and even now, I'm a person who rarely gets sick. So from the very beginning of my journey, I knew I was in for a fight. I decided that if I made it through, I would share my story with as many people as possible to help encourage others along the way. That's always been my motivation professionally and personally — to help others whenever I can. And we are blessed to live in a wonderful community full of great doctors, numerous fundraising events and countless charity organizations devoted to helping those in need. I attend many cancer-related fundraisers throughout the year, hosted by organizations such as the American Cancer Society and the Kansas City Hope Lodge. I participate in the Pet Telethon and the annual Dog-N-Jog on the Plaza every year, which both raise money to benefit the Humane Society of Greater Kansas City. And I emcee the Wayside Waifs Fur Ball each year, from where Sunny was adopted.
I've found that the greatest gift that you can give others is your time and attention. If you've been diagnosed with cancer you'll likely never be the same, but you will be a part of a very exclusive and close-knit club of individuals who understand and who will help you in any way possible. Even though only six American adults will be diagnosed with the same type of cancer I had each year, we are all taking cover from the same storm and comfort can be found in numbers. Share your story, listen to someone else's and help the healing cycle to continue.
Gary's courage in battling this rare cancer is more than matched by the enthusiasm he brings to helping cancer patients and support organizations in our community. Whether he's giving a weather forecast, emceeing a cancer organization's event or talking with schoolchildren during classroom visits, Gary exudes the spirit of hope that is so important in battling cancer.
Said Annette Bloch when presenting Gary with the Richard A. Bloch Survivorship award in 2009.