U.S. Medical Advisory Board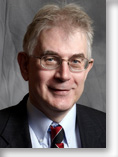 George W. Sledge Jr., MD
George W. Sledge Jr., MD, is professor and chief of medical oncology at Stanford University Medical Center and most recently served as co-director of the breast cancer program at the Indiana University Cancer Center. He specializes in the study and treatment of breast cancer and directed the first large, nationwide study on the use of paclitaxel to treat advanced breast cancer. He has published more than 280 articles in medical journals about breast cancer and chaired several nationwide clinical trials involving new breast cancer treatments. His work spans both laboratory and clinic.
Dr. Sledge serves as editor-in-chief of the journal Clinical Breast Cancer, and is past president of the American Society of Clinical Oncology. He served as chairman of the Breast Committee of the Eastern Cooperative Oncology Group from 2002 to 2009, where he played an important role in the development of several nationwide clinical trials. He has also served as chair of ASCO's Education Committee, as a member of the Department of Defense Breast Cancer Research Program's Integration Panel, as a member of the Food and Drug Administration's Oncology Drug Advisory Committee, and currently as a member of the External Advisory Committee for The Cancer Genome Atlas project.
Dr. Sledge was awarded the Hope Funds for Cancer Research 2013 Award of "Excellence for Medicine." He was also the recipient of the 2006 Komen Foundation Brinker Award for Scientific Distinction, the 2007 Breast Cancer Research Foundation's Jill Rose Award and the 2010 William L. McGuire Award from the San Antonio Breast Cancer Symposium.