Multiple Myeloma Survivor
Survivor draws strength from support and positivity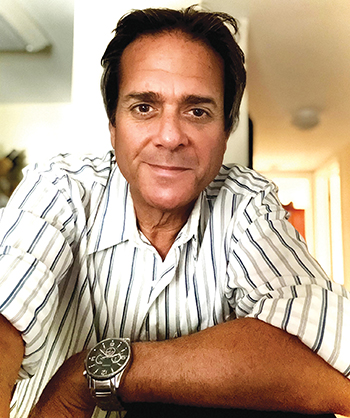 Before he could come to terms with learning he had multiple myeloma, Edward Perinelli faced a lengthy recovery from the surgery that helped diagnose the condition. Through the support of his family and friends and deep personal reflection, he now feels good and lives for today.
My back pain began in March 2019. I was kickboxing three times a week and assumed it was just a stiff back. I stretched out as much as possible. The pain wasn't terrible. I managed to remain active, do my day-to-day work and even take a beautiful 10-day vacation to Switzerland.
I was seeing a chiropractor, but we didn't take X-rays right away. That turned out to be a mistake. It could have saved a lot of time and pain.
While standing in the kitchen one day, I sneezed hard and felt a pop in my back. A sharp pain sent me to the floor. I was shocked and confused and struggled to get back on my feet. I knew then it was serious.
An MRI showed I had a compression fracture in my spine (L3). I was 51 years old and had no trauma to the area, so my doctors fixed the vertebra by kyphoplasty and did a biopsy.
When I awoke from the procedure, I went into septic shock. I regained consciousness after a few days to learn I had multiple myeloma. I went from being a healthy man to a weak and frail man instantly. It took more than a year for me to recover from the sepsis. And then I focused on cancer.
I was immediately put on drug therapy in an attempt to get my M-spike and light chain numbers under control. I had more than 90 percent myeloma in my blood, and I feared these high numbers would remain.
Right away I realized how lucky I was to have the support of friends and family. They took over when I wasn't able to function well both physically or cognitively. Family members helped organize bills and employment disability, visited me in the hospital, encouraged me and managed my doctor visits and medications. I went from taking a multivitamin to 17 pills a day.
I researched and made a long list of questions for the ongoing doctor visits. I tried to figure out what my approach would be. Eventually, I decided to fight. Would it be hard, and would I have a lot to deal with? Yes, but I'd control what I could and let the chips fall where there was no control.
I educated myself about treatment and what the medications would do for me. I was interested in the science behind the treatment. In my case, an autologous bone marrow transplant was the best option to quickly reduce the amount of myeloma cells in my body. The procedure sounded difficult and uncomfortable, and I wanted to research and understand it. After many conversations with doctors and family members, I realized I needed it.
The preparation was very involved. I had many tests to be sure I was well enough to handle the treatment. I had several injections in my stomach at night to get my body to aggressively produce bone marrow stem cells that would be removed and frozen, and later returned to my body to begin developing a new immune system. The injections were painful and made my bones ache, but I was amazed at the feeling of this aggressive cell production. Once the injections were complete, we were able to collect six million new cells. Four million would be used for the procedure, and the additional two million would be frozen and used later if needed.
Two weeks after the bone marrow transplant, my blood counts reached an acceptable number and I was sent home. I remained under the close supervision of my caregiver for at least 10 days. Recovery was one of the most challenging things I've dealt with. I did what was required to help myself heal. I rested, exercised and gave it time, and I slowly saw results.
I've accepted that my life is now different, but I'm alive and I'm not alone. I'm part of a large group of people who were once in my situation and became successful over time with hard work and support.
Because multiple myeloma is incurable at this time, I will likely always be on drug therapy. The myeloma is hardly detectable, but if I back off treatment it can easily return, and that may make it more difficult to control.
I've always felt family, friends and faith are most important. I live for today, take nothing for granted and do more of what makes me happy. I'm less concerned with making money or climbing the corporate ladder. I've recently published my first children's story, The Adventures of Rikki Rocket, and it is available on Amazon. I'm focused on being alive, traveling and doing the best I can for myself and others.
Most days I feel good, and I have a good attitude. The difficult moments are less frequent. I know it's hard to imagine that you'll do well. It may even seem impossible. I forced myself to be patient with recovery, and I admit it took time.
Listen to your doctors, ask a lot of questions and stay focused. Treatment will require support, patience and courage, so take it slow. Don't be afraid.