Multiple Myeloma Survivor
Leading By Example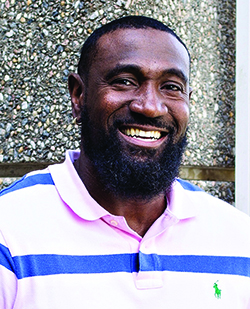 Thomas Goode has personal experience with what the power of support can do. All 10 of his siblings have played a role in helping their baby brother battle multiple myeloma — from donating stem cells to being his caregivers. They've been by his side through the setbacks and the successes. Today, Thomas is on maintenance therapy, and he works hard to ensure people diagnosed with multiple myeloma have the support they need to manage their disease.
We were on a family vacation in Myrtle Beach, and I was working out in the hotel gym. I must have been grimacing while I was lifting, and the guy next to me asked me how long I'd had shoulder problems. I told him I didn't. A few days later, I caught an airball while I was playing basketball and had excruciating pain. I saw my primary care physician and he asked me to move my arm around a bit. I could barely move it. He told me I had bursitis, but I didn't accept that diagnosis. Instead, I saw my sports medicine doctor. He ordered an X-ray and an MRI. When the results came in, he told me I had a cancerous tumor called a plasmacytoma in my shoulder. I tuned out after he said "cancer" and don't remember much more of what he said.
He sent me to an oncologist, who explained the protocol for a plasmacytoma was six weeks of radiation to shrink the mass. I did it, the mass got smaller, and I was fine. Eight months later, I wasn't doing anything out of the ordinary when I felt a huge pain in my lower back. I saw the oncologist, and we found a mass on two of my vertebrae and in my ribs. Because the cancer was now in multiple places, I got the official multiple myeloma diagnosis. I was 34 years old.
My oncologist started me on chemotherapy to get my numbers down and suggested I see a bone marrow transplant (BMT) specialist. Because I was young and in otherwise good physical condition, they both felt I was a good candidate for an autologous BMT. I had my cells extracted, which was followed by high-dose chemotherapy and the transplant procedure.
Just two months later, I had an M-spike, which meant the myeloma was back. The BMT specialist recommended a clinical trial that included an allogeneic (donor) BMT. I trusted her completely and felt that I had nothing to lose by trying a clinical trial. I'm the youngest of 11, and seven of those siblings are biological. All seven were tested, and my oldest brother was a perfect match. We both went through workups to prepare. I had more chemotherapy and radiation therapy to get the numbers down. When I was ready, his cells were harvested and I received the first transfusion the very next day.
I got the first transfusion as an outpatient but got sick, so the next two transfusions were done as an inpatient. Because those went well, I completed the process as an outpatient. I had the common side effects from that type of BMT, including a small case of Graft-versus-Host Disease, cytomegalovirus (CMV) and C diff. I got full positive results from the BMT and was back to my version of a regular life, which was my new normal.
Two years later, I felt a twinge. I had a three-month checkup coming up, so I asked my doctor if she could add a PET/CT to it. She felt that I knew my body best, so she agreed, and we discovered I had a mass in my vertebrae. The hardest part was telling my family that I had relapsed.
I put my faith in my doctor once again and entered another clinical trial that required me to call my brother for another transplant. To prepare, I had six 21-day cycles of chemotherapy and eight days of radiation. Then, I had to stay in the hospital for 30 days. I had four days of total body irradiation and higher doses of chemotherapy before getting my brother's cells. It was pretty intense.
After 127 days post-transplant, I was able to go on post-treatment therapy. A year later, I asked my doctor again for a PET/CT. She hated to hear that question because she knew I knew my body. I had a mass on another vertebrae. We treated it with radiation therapy and oral chemotherapy. After about a year, my donor percentage had dropped, so my brother donated cells again for a donor lymphocyte infusion and that brought it back up. My doctor determined my medication was too aggressive, so she reduced the dosage, and I've been on that "21-day on, 7-day off" maintenance therapy since 2013.
The maintenance therapy causes me to be tired, so I take it at night and usually wake up feeling refreshed. After radiation therapy around my arm, I had what felt like a severe sunburn under the fold of my arm. The radiation also caused me not to have any sweat glands in a certain part of my back.
When I was first diagnosed, I got depressed. I found my outlet for depression to be working out. It kept me from thinking about my disease.
My family is a huge source of support. When we're faced with a setback, my siblings and even my kids all have the same "How do we fix this?" attitude. My siblings, who live across the U.S., coordinated schedules and took turns staying with me to be my caregivers.
I am retired due to the illness, but I have a new calling that came from this diagnosis. When I had my first BMT, I wanted to learn from the other patients at the BMT center even though we were there for different types of illnesses. But they were very private and didn't want to open up. I decided that I would be the patient I wanted them to be, so I talked and laughed with the nurses throughout my appointments. Soon, the patients began to share their experiences.
My doctor and I identified that we had a real need for a multiple myeloma support group in our community, and she asked me to start one. I've also participated with her in various presentations and am a resource for her patients that just need to talk with someone. I am a volunteer ambassador for Be the Match, and I work with the Leukemia & Lymphoma Society.
I live my life to the fullest, and I hope others can do the same. Once I accepted the disease, I was at peace. I don't worry about it returning because I know if it does, I'll be ready to go through the treatment I need.