Multiple Myeloma Survivor
Team Effort Leads To Respect And Long-Term Success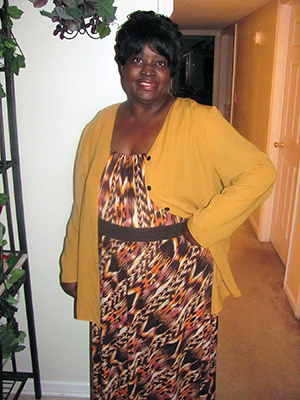 Facing a multiple myeloma diagnosis alone, Theresa Williams-Bethea researched the disease and found a team of doctors who made her feel listened to and included her in treatment planning. Under their care, she has outlived the original prognosis of three to four years she received in 2010. Her advice is to educate yourself about your diagnosis and treatment options so you can be prepared to make the best decisions for yourself.
Feeling short of breath, I went to the emergency room in December 2009. My blood pressure was also high, so they kept me for two days. On the day of my release, the physician assistant said nonchalantly, "You might want to follow up with your primary care doctor and get your protein levels checked because they were high." She didn't explain which proteins or what that meant. There was no sense of urgency.
After I got home, I researched everything I could find on high protein levels while I waited to see my primary care doctor. I was referred to a hematologist who said it looked like I had multiple myeloma. My first thought was, he said what? My immediate response was, "I ain't got time for cancer. I've got a lot to do."
He turned his back to me and started typing on his computer. After about three or four minutes of silence, I asked what he was doing. He said he was creating my treatment plan and that I had a prognosis of 36 to 48 months. It didn't click that he meant 3 to 4 years to live. He told me I'd have to quit working with children. I worked with Young Women of Promise, a nonprofit organization for young people, and the thought of not helping the children did not sit well with me. Plus, I was sad that I didn't have a say in my own treatment plan.
Although he wanted me to start chemotherapy, I didn't have health insurance at the time. I delayed starting treatment while I applied for Medicaid and disability insurance. I also decided I wanted a medical team that worked together and included my concerns and wishes regarding treatment. So, I switched to a nearby cancer center and a teaching hospital with a new team of doctors. They are wonderful. They wanted to really know me, and I wanted to learn as much as I could about a disease that very few have even heard of. No one in my family has had it. When people would ask me what I had, they thought I was saying "melanoma" instead of "multiple myeloma."
My initial treatment started as oral therapies that included an immunomodulator and a steroid. I liked the convenience of oral treatments. Over time, my treatment was adjusted as my numbers indicated it wasn't working as well. It included various combinations of immunomodulators, immunotherapy and steroids. Eventually, they wanted to shift me to intravenous (IV) infusion therapy instead of just oral treatments. Unfortunately, the initial treatment did not bring my blood counts down enough. I am currently taking an oral immunomodulator and steroid, as well as a new immunotherapy by infusion, and it's working well.
My biggest challenges are fatigue and chemo brain. I can get tired just getting into a car or sweeping the kitchen. Some days, it can take a lot just to get out of bed. Another challenge is depression. I didn't really deal with it until about two years ago. I kept my feelings bottled up or only wrote about them in my journal.
Part of the journey has been lonely. I'm a very private person, but I encourage you to let other people in. I am blessed to have three grown children. Carl, April and Ellena are very supportive, but they live in three different states. I have turned to family and friends for support on Facebook. I also found emotional support by caring for my great-nephew, Makari. Before the pandemic, I spent three to four hours every Wednesday playing with him. I called them my Wonderful Wednesdays with Makari, my therapy baby. For now, video chats on Sundays allow me to connect with my family.
Also before the pandemic, I participated in the American Cancer Society's Road to Recovery program, which provided rides to my cancer-related appointments. Now I have a great friend, Tonya, who drives me to all of my chemo appointments. Two nieces and other family members help with grocery shopping, housekeeping and other chores. I place signs on the doors of each of my rooms that list the chores that need to be done. That way, if I am not feeling well, they can decide which chores they want to do.
Although you are living with cancer, others may not understand what you are going through. Remember, it is okay to not be okay. It's important to be involved with planning your care and to be respected by your doctors, your family and friends. Be receptive to trying new therapies, especially with multiple myeloma because so many new treatments are available even though there is no cure. Stay prayed up. I trust and believe in God, but I trust my doctors, too. I know that together we will make the best decisions possible.