Lung Cancer Survivor
Live With Strength and Positivity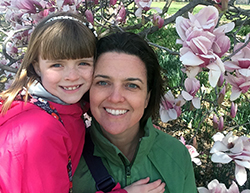 A Stage IV non-small cell lung cancer diagnosis at the age of 42 surprised Anne Phillips, a never-smoker and mother of two young children. Thanks to genomic tumor testing, she receives targeted therapy treatment for her EGFR- and T790M-positive lung tumors and is able to maintain a normal, active life. She dedicates herself to creating awareness about lung cancer and raising money for research.
One morning, I was preparing my two children (ages 4 and 6) for school when I started to lose control of the left side of my body. I had a seizure and fell to the floor. My 6-year-old ran to the neighbor for help. The neighbor called my mom, who dropped the kids off at school and took me to the emergency room. My husband rushed back from a local work commitment and met us at the hospital. Within 24 hours, I had an MRI, CT and X-ray. The results led the doctors to believe that I had a primary diagnosis of lung cancer with multiple brain metastases.
I required care right away, so the time between diagnosis and the beginning of treatment was very short. Two days after I entered the hospital, I had surgery to remove the largest of at least eight tumors in my brain. While I was in surgery, my husband emailed friends and family and explained the situation.
As I was recovering from brain surgery, the oncologist came in to speak with me and my husband about my condition. He casually mentioned the words "Stage IV non-small cell lung cancer." I was shocked and didn't hear the rest of the conversation. I had no idea what "Stage IV" meant. I didn't know anything about lung cancer. This was a very scary time for me. I spent the next week in the hospital recovering, and I was released the day after Mother's Day.
Two weeks after the day of my brain surgery, my husband and I started a kitchen remodel. We had planned to start the remodel and decided not to cancel. I wanted to stick to our plans and get everything back to normal for my children. It turned out to be a very good distraction and an activity for the family to focus on while I was home.
I started researching oncologists in my area to identify the best option for a second opinion. My primary care physician and a close pharmacist friend both referred me to the same lung cancer research oncologist. I met with him, and he explained what I was facing. He told me that a sample from my brain tumor was sent for genomic testing. According to him, it was good news because the sample tested positive for the epidermal growth factor receptor (EGFR) mutation. That meant he could prescribe a targeted therapy drug to treat my exact mutation.
Before I could start targeted therapy, I received two rounds of Gamma Knife radiosurgery to treat the remaining tumors in my brain. During the radiosurgery, multiple gamma rays were directed at a tumor from different angles and delivered high doses of radiation. Once I recovered from the brain treatments, I was able to start targeted therapy.
The targeted therapy drug caused about a third of my hair to fall out. I cut the remainder short, and it grew back curly. I developed an uncomfortable hot rash on my face, so my doctor prescribed antibiotics. Other side effects included diarrhea and dry, brittle nails.
I remained on this targeted therapy drug for two years, until my lung cancer metastasized to a lymph node. The new tumor was genomically tested and was positive for a T790M mutation. I switched to a newer targeted therapy drug that has fewer side effects and targets both EGFR and T790M mutations.
At my doctor's recommendation, I joined a chat room online and met patients who took the same medication. We were able to discuss many aspects of cancer, chemotherapy and dealing with daily life.
I'm a very independent person, and asking for help was one of the first things I learned to do after being diagnosed. It wasn't easy. Because of the seizure, I was unable to drive for three months. My family, friends and neighbors were extremely helpful. We received a massive amount of love and support.
Many people think only smokers get lung cancer. The truth is that smoking is a major contributor to all cancers, and anyone with lungs can get lung cancer. Lung cancer survivors and researchers must overcome the stigma of smoking and a lung cancer diagnosis in order to change lung cancer from a terminal disease to a manageable one.
I encourage fellow lung cancer survivors to be advocates for themselves. Take some time to choose the right treatment and doctor. Don't search the Internet looking for answers. Most importantly, don't allow your diagnosis to take over your life. Pursue the things that you enjoy, and live with positivity.