Lung Cancer Survivor
Patience & practicality saved my life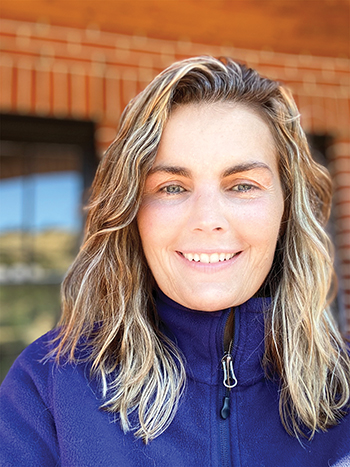 When Sheilah Young-Labinski learned she was facing Stage IV non-small cell lung cancer, she refused to act before she had all the facts. Her informed decisions helped her reach the point where her tests show no evidence of disease. As a peer counselor for organizations such as GO2 Foundation for Lung Cancer, she encourages self-advocacy, support and second opinions.
After I hurt my back getting the dog out of the car on a family hiking trip, I made an appointment with my primary care physician. He chalked it up to being 46. The pain worsened and I became short of breath, so I saw him again. He ran tests and saw a little fluid in my lung. It didn't concern him, but he suggested a different test if the discomfort didn't subside. It didn't, so my plan was to get that test. I never had the chance.
My husband Jim was busily cooking dinner and went looking for our son to help. Instead of finding Asher, he found me on the bedroom floor. I was rushed to the hospital where I stayed for two weeks. Pressure on my heart due to fluid buildup had caused me to collapse. The fluid was drained and, after examining it, my doctor suspected adenocarcinoma.
He set up appointments with five specialists: an oncologist, cardiologist, pulmonologist, thoracic surgeon and OB/GYN. Each day for the next five days, I heard a different diagnosis. Either I had lung cancer, pericardial effusion, tuberculosis, ovarian cancer or pelvic cancer. It seemed so outrageous that I wasn't quite sure I had anything at all!
One thing these specialists had in common was that each wanted treatment to start immediately. The urgency was overwhelming, and I had to take a pause. I couldn't make any decisions until I had more information.
Finally, we had a confirmed diagnosis of Stage IV non-small cell lung cancer that had spread to my heart and pelvis. The oncologist followed up by ordering a tissue biopsy to search for specific tumor markers, but the results were inconclusive. She estimated I had six months to live. I had just been accepted into nursing school but she encouraged me not to pursue it. I left the office devastated, with no resources to learn about this disease.
The situation was chaotic. Jim did his best to keep our kids Zoe, 16, and Asher, 13, in their normal routines. Jim agreed to attend a lung cancer survivors' group with me with the caveat that he could leave if it was too difficult. He was glad he went, and their advice saved my life.
First, the group leader asked if I'd had an MRI. I hadn't. She encouraged me to go back and ask for one. She also told me that if I didn't like my oncologist, I should get a new one. The group also recommended getting a second opinion from a lung cancer specialist at a nearby cancer center.
I insisted that I have an MRI. When my oncologist called about the results, she told me to come in right away. A friend drove me and we met Jim at her office. She spoke to them but not to me. When she asked if they'd like to see the scans, I told her I'd like to see them, too.
The cancer had metastasized to my brain. We decided to wait until after my second opinion appointment set for the next Monday to make any further decisions.
The meeting with the lung cancer specialist was amazing. She listened to me and, more importantly, she heard me. She disagreed with the current treatment plan. She believed I might have a gene mutation and requested another tissue biopsy to hopefully identify a biomarker that would change my whole course of treatment.
I found a new oncologist within my insurance network who would work with my specialist. While we waited for the next biopsy, I began chemotherapy and it really knocked me out.
Still operating under the assumption that I didn't have much time left, I planned a big birthday bash for July. On June 22, life-changing biopsy results came in. I was ALK+. My new plan was to stop the chemotherapy and start an oral targeted therapy that had just been approved for non-small cell lung cancer.
Because the side effects were minimal, I was able to go to nursing school. I probably didn't need the added stress, but it gave me something to focus on.
My first scan showed significant tumor shrinkage, which was great, but soon after, my brother passed away unexpectedly. It was tragic. I was the one who was sick, yet he was gone. I felt tremendous guilt and found it hard to go on. I forced myself to think about what he would want me to do. I knew he'd want me to live, and that is what I've done.
Four years later, no cancer was visible. I will continue on this therapy unless it stops being effective. If that happens, I have other options.
I realize I'm lucky. I may tire a little easier than before, but I work as a nurse and can hike, ride my e-bike and do the activities I did before my diagnosis. Advocating for myself and having the support of my family, friends and medical team made all the difference.