Lung Cancer Survivor
Early detection saved my life, support saved my soul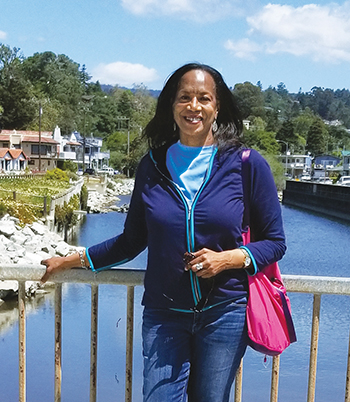 Denise Lee was diagnosed with lung cancer at 55 after requesting she be screened. She feels blessed to have caught her diagnosis early and, after treatment, has been deemed NED (no evidence of disease). Today, she actively promotes early detection and the emotional healing that comes from the support of other lung cancer survivors.
Commuting in Northern California meant a lot of time on the freeway for me. A billboard featuring an African American woman kept catching my eye. After passing it a few times, I actually read it: Saved By The Scan. It promoted an online lung cancer risk quiz that could determine my eligibility for lung cancer screening. I didn't know early screening for lung cancer even existed. It intrigued me because although I had recently stopped smoking, I had a history of it on and off for 40 years. That night I took the quiz and found out I was eligible.

It took some persistence to convince my doctor to order the screening. And, once I got the appointment, I had to convince myself to go because I was a little frightened about what I'd learn.

I went, and the screening consisted of a simple CT. The day after, a pulmonologist I'd never met called to set up a time to investigate a spot on my lung in the left upper lobe. They did a PET, a brain MRI, a bone scan and a biopsy. I had lung cancer.

The recommended treatment plan was surgery to remove what appeared to be a Stage IIB tumor, followed by chemotherapy. I was referred to a thoracic surgeon.

I sought a second opinion, and that doctor said, "Oh, I remember your case. I was on your tumor board, and a note in your file mentioned your Saved By The Scan story." He explained that my case was put in front of about 10 doctors who weighed in on the best treatment for me. He also raved about the thoracic surgeon. That gave me confidence, but I was still scared. The social worker on my health care team recommended several advocacy groups that could offer support.

I contacted one of the groups and was connected with a mentor who had the same diagnosis and treatment plan as I did. Always upbeat and positive, she was a lifesaver. She was also an ex-smoker, and we talked about the stigma that accompanies a lung cancer diagnosis. It was incredibly helpful to connect with someone who knew where I was coming from.

I told my mentor I had small veins, and she suggested requesting a port for the chemotherapy. I asked my oncologist and was referred to an interventional radiologist. When I met with him, he said, "I was on your tumor board. You are my favorite cancer patient!" That really boosted my spirits.

My surgery was successful. The thoracic surgeon removed my upper left lobe and 17 lymph nodes, none of which were affected. The tumor was restaged as IB.

I began a combination chemotherapy regimen and discovered after the third round that I had delayed side effects. I had nausea and vomiting 10 days after treatment. To address this, my doctor adjusted when I should take anti-nausea meds and brought me in every other day to be hydrated. Both helped immensely.

After test results showed I was no evidence of disease (NED), my oncologist asked if I was interested in a clinical trial that was testing whether immunotherapy after surgery and chemotherapy would help prevent recurrence. My tumor had a high percentage of PD-L1, and that was one arm of the trial. Although I didn't know a lot about clinical trials, I knew that someone had to go through one to help the treatment I had already received get approved, so I agreed. It might help me, and if it could help others get the treatment they needed in the future, I considered it a win-win. The trial consisted of one injection every month for a year. My only side effect was feeling a little nauseated.

The trial includes follow-ups every six months for five years. I absolutely have scanxiety before my appointments. I used to be on high alert about a month before a follow up, but I've gotten it down to about a week before. Keeping busy helps. I journal, and I pray. I also stay on top of all the advances happening in the lung cancer community. That calms me because I know if I have a recurrence, there are new strategies that may help me.

This experience changed me and how I view my life. You never know what is ahead, so I promote low-dose screenings for early detection. I understand it can be scary, but it made the difference for me. If I had waited until I had symptoms, it might have been too late.

Today, I feel great. I retired from my career as a public defender but went back to work part time. I also mentor people with lung cancer. Without a doubt, connecting with a lung cancer mentor was the single best thing I did. It gave me someone to talk to who knew exactly what I was going through. I encourage you to find the same type of support.