Lung Cancer Survivor
Trials Offer Survivor More Time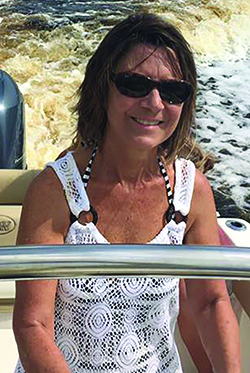 Melissa Crouse, a Stage IV non-small cell lung cancer (NSCLC) survivor, has survived against the odds. First diagnosed with Stage IA disease in 2005, she has gone through various treatments and clinical trials to combat the recurrences and progressions she calls "flare-ups." Through it all, she has remained a dedicated advocate and mentor, working to raise awareness about the disease and the importance of getting your tumor genetically tested.
My lung cancer was discovered in 2005 when a routine physical, including an X-ray for a tuberculosis test, revealed a small tumor in the upper lobe of my left lung. The next thing I knew, I was sitting in a cardiothoracic surgeon's office, and I'd been diagnosed with Stage IA non-small cell adenocarcinoma of the lung. We decided on a course of treatment that included a lung resection, followed by chemotherapy. I responded well and spent three years NED (no evidence of disease). Then, in 2009, the cancer came back.
Not only had the cancer recurred, it had metastasized. That's when I decided to seek out a specialist. I was fortunate to find one of the top lung cancer physicians in the country, and he has remained my oncologist to this day. He is also a researcher, passionate about discovering the mutations that drive this disease and developing targeted treatments to stop them. Being his patient gives me access to many new treatment options and affords me the opportunity to participate in some of the newest clinical trials.
I've participated in five clinical trials and have had a wide range of trial experiences. I've traveled for treatment, received therapy locally and even had my medication mailed directly to my doorstep. I've found that it is very important to be open and honest with the trial doctors providing my care and with my medical team. Following the strict protocols of every study is also important because the information they gather is crucial to lung cancer research and the development of new treatment options.
Everyone is different. Some people tolerate treatments better than others. Notable side effects of my various treatments have been neuropathy, varying levels of fatigue, loss of appetite and some difficulty concentrating. I've also lost my hair three times. Many women get very upset when they lose their hair, but I felt it was a small price to pay for a chance to live longer. Besides, it grew back each time.
I've always felt comfortable in any trial I decided to participate in because I trust my doctor. Communicating with and having confidence in your doctors and medical team is extremely important. I'm open to any trial he suggests because I'm confident in him. I'm of the mindset that I've tried everything else, so why not? And I feel that my participation impacts the progress toward making lung cancer manageable so that more patients can treat it as a chronic condition rather than a terminal illness. At least that's the goal right now.
In addition to finding a doctor you trust (ideally one who specializes in the disease), my greatest advice to anyone with lung cancer, whether newly diagnosed, recurrent or metastatic, is to have your tumor tested for mutations. With all of the targeted therapy options available, you may find that your tumor is likely to respond to a treatment geared specifically toward the mutation that caused your cancer.
This type of personalized treatment is making a breakthrough in the world of cancer, as researchers are now looking for therapies that will reverse individual cancer-causing mutations. Because of this innovative progress and the advancements in lung cancer treatment, people are starting to use the C-word: cure! My physician once told me that in medical school, he was taught specifically how to deliver bad news. We've come such an incredibly long way from that.
Nobody thinks it is going to happen to them. I lived an active lifestyle, I was a healthy weight, I ate well and I never smoked. After I was diagnosed, people would ask me if I smoked, and I would answer, "No, but why should that matter?" This unfortunate stigma is a good reason support groups are especially helpful for lung cancer patients. Regardless of smoking history, nobody deserves this disease. I started my own local group and have found it therapeutic for me and others to share our experiences. Our slogan is "ANYONE can get lung cancer!"
I was given three to five years to live. I've lived longer than anyone thought I would, largely because of clinical trials, and I've been able to get past the anger and fear and move on to acceptance. Whatever happens, I can honestly and confidently say that my medical team and I have done absolutely everything possible to treat my cancer. It continues to be a roller coaster ride, but at the same time, it has made me realize what is truly important. I believe that how I approach each day is my choice, and I choose to be positive and avoid all things negative. I choose to make the most of each day and to be grateful for what I have. My family is my life, and there simply isn't time to waste energy on negativity.