Lung Cancer Survivor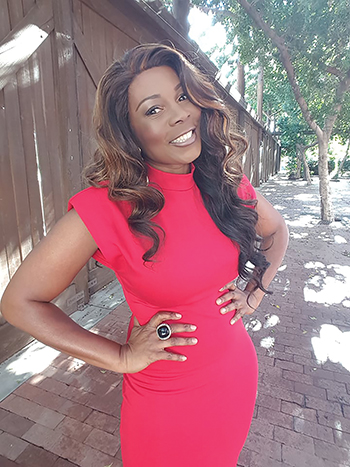 Lung cancer survivor is #DivaStrong
When Danielle Williams (aka Diva Danielle) was diagnosed with Stage IV non-small cell lung cancer, it came as a shock. As a non-smoker who has always taken care of her health, she felt as though her body had betrayed her. A former broadcast journalist and stand-up comedian, she now shares her perspective and encourages others with her positivity and humor.
Before I took a special trip to Miami to celebrate my 50th birthday, I wanted to be in the best shape of my life. I altered my workouts, exercised six days a week and shifted what I ate. After the trip, I began to lose weight and my lower back started hurting, but I attributed the pain to my extra workouts.
As the months passed, my back pain worsened and my weight continued to drop. At a routine dental checkup, the dentist noticed my gums were not healing as they should from a recent procedure. He thought something was seriously wrong and recommended I see my doctor. By then I was in so much pain that I could barely bend over to tie my shoes or pick up a laundry basket.
I saw my doctor who suggested an MRI. The results showed Stage IV cancer with metastases in my spine, pelvis and shoulder. It was later confirmed to be non-small cell lung cancer.
I was devastated by the news but also bewildered. I didn't drink alcohol or coffee, I worked out, stayed healthy and never smoked. How do you get lung cancer when you never smoked? I took a couple of days to process the news and cry over the diagnosis before sharing it with my family. I chose to approach the situation as mind over matter. I'm a firm believer that having a strong mental attitude and positive thoughts will trickle down throughout the body and aid in the healing process.
Treatment began with 30 days of intense radiation therapy followed by a chemotherapy regimen consisting of five different types of medication. As I went through treatment, my doctor tested for mutations, but results showed I didn't have any. After two years of chemotherapy, my doctor changed my treatment plan to a targeted therapy that I still take today. My treatment also includes a bone-strengthening drug that is administered through my port every two months.
My television career as a journalist ended as I took time to heal. Then I had an epiphany that gave me insight on how to take my career in a new direction, on a bigger stage than just television. I realized I could reach people through multiple media platforms. I already had the equipment and experience as a broadcast journalist, so I decided to be my own news story. I began recording videos and sharing them on social media to inspire others. Every Wednesday, which I called Chemo Wednesday, I recorded and posted live videos of me getting chemotherapy on Facebook and Instagram. I also created a series of YouTube videos that highlighted various aspects of my lung cancer journey in a humorous and positive way.
Throughout everything, I stayed focused on the positive and always looked for something good. I did my hair and makeup and wore beautiful dresses and my favorite jewelry. I also wore a good wig. I've been wearing wigs for years. They are fun and make me feel good. I wanted to show others that your experience is what you make of it.
Another outlet that was very therapeutic was doing stand-up comedy. Sharing my humor with the world helped me stay positive. Just because you have cancer doesn't mean you have to be sick and sad all the time.
By sharing my videos and comedy, a whole new world opened up for me. Friends, family and even people I'd just met referred to me as Diva Danielle, or just Diva. The name stuck so I incorporated it into my new company, Diva Strong Media LLC, where I work as a professional corporate emcee, motivational speaker and founder and facilitator of the Junior Public Speaking League, a workshop program designed for leadership groups, team building and educational institutions.
Part of my passion includes volunteering and connecting with various businesses in the community. The American Lung Association invited me to speak at a breakfast a few years ago. I started working alongside the organization, and in 2020 I became the Lung Force Hero for the state of Arizona. I was invited to share my story in Washington, D.C., to speak before Congress to help create change for non-smokers who get lung cancer and to help secure funding for lung cancer research.
I am so grateful to have been surrounded by the support of my mom, my brother and the comedy community, which performed benefit shows to help me pay for treatment.
My advice to others is to give yourself time to take in your diagnosis. Scream, yell, fuss, cuss and then take a deep breath. Turn away from the negative and become your own cheerleader.
The power of positivity is so important. My motto is "Positivity is the root of my business." I am killing my cancer with kindness.