Lung Cancer Survivor
You're as Good as the Company You Keep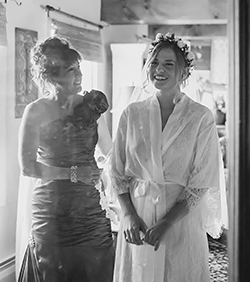 Aside from battling a chronic cough for 13 years and being treated for asthma, Lois Green felt she was in peak physical condition. An avid runner, she was in training for an upcoming triathlon and marathon. When she made an appointment with a pulmonologist (and fellow runner) to treat her breathing problems and become a faster runner, she never imagined it would lead to a lung cancer diagnosis and a brand new purpose in life.
I am a wife and mother of two daughters. In the summer of 2006, I was diagnosed with non-small cell lung cancer in the earliest stage. I was 47.
The diagnosis came out of the blue. I was at a wellness fair at work. Because I was already being treated for asthma, I almost ignored the pulmonology station. For some reason, I stopped, and the nurse recommended a pulmonologist, who also was a runner. The nurse thought he could increase my lung capacity and help me become a faster runner. I was already training hard for a fall marathon, so that was everything I wanted to hear.
My first appointment with him went well. He planned to treat my chronic cough aggressively, but first he ordered a CT scan. On July 14, I was at the hospital with my family for my mother's breast cancer surgery. I went to get the CT, with the promise to be back by the time Mom was in recovery.
Two hours later, I left the doctor's office with a prescription for a PET scan, a surgeon and a harsh dose of reality. He had pointed to a spot on my lung on the scan and told me I had lung cancer. I had never smoked, and until Mom's recent diagnosis, we had no history of cancer in our family. While I was walking to the parking lot, my only thought was, "I'm not going to see my girls get married."
I decided not to tell anyone. I went back to the hospital and learned that, thanks to early detection, Mom's surgery was a success. She would follow up with six weeks of radiation therapy. When family asked how my appointment went, I simply responded that it was fine and I just needed one more test.
The good part of not sharing my news was that everything and everyone around me remained normal, and I just wanted everything to be normal. Although I wasn't sure I could, my daughter, Tara, and I completed our first triathlon just a few days later.
The following week, I went for the PET scan and additional tests. I didn't share my news with anyone until after the PET scan. When I did, my dad told me about a surgeon who "has the hands of God." Mom went with me to see him, and he ordered his own tests. He confirmed the diagnosis of early-stage lung cancer. He recommended surgery, and I asked if we could put it off until after my October marathon. "If you were my wife," he said, "we would take care of this now so you can move on with life." That was the moment when it hit me that this was real, and I scheduled the surgery.
Physically, I felt great, and I completed an 18-mile run the week before the surgery. On August 31, my surgeon performed a thoracotomy, removing half of my left lung. I, too, was blessed with early detection. I didn't need radiation or chemo, and my doctor said recovery would take at least 12 weeks. My husband – my biggest supporter – was my greatest asset during recovery. Seven weeks after surgery, I ran my comeback 5K race. Although my time was significantly slower, I crossed the finish line in 30 minutes.
During the first weeks of recovery, I found myself asking why this happened. The answer revealed itself almost immediately when I began getting phone calls from friends and neighbors asking if I would speak to people they knew who were about to have the same surgery I just did. The time following my surgery became the best year of my life because I realized I had been bestowed a gift.
Eager to commit to more than just the test of strength and endurance, I joined a cancer advocacy group where I could run and help people at the same time. Through The Leukemia & Lymphoma Society's TEAM In Training (TNT), I entered the San Diego Rock 'N Roll marathon with a fundraising commitment of $4,000. I purchased breast cancer postage stamps and return envelopes then sent fundraising letters to family, friends and colleagues. The next day, a colleague called about my letter and gave me my first donation. More followed, and within a few weeks, I surpassed $4,000.
Both of our daughters were away at college during my fundraising campaign. Meagan, our older daughter, brought home $1,200 in donations. Tara surprised me with a stack of envelopes from classmates totaling more than $550 and her own entry into the marathon. She would run every mile by my side.
I continued mailing letters while training. I had gained celebrity status on the team when I surpassed $10,000. I put my story in our local paper, and strangers responded by sharing stories of cancer in their families and including generous donations. The letter that affected me most came from a lady I hardly knew. She and her husband lost their 4-year-old daughter to leukemia. She invited me to contact her other children (now grown and very successful) for their support with my campaign. To this day, I cannot read her words with a dry eye.
The fundraising continued. It united our family and friends, who reached out in generous proportions with their time and efforts. We reached $20,000. I was recognized in the top 10 among thousands of team members. Among the sea of purple being corralled to the starting line on race day, I was never more proud to be a TNT member. Tara and I finished the marathon in 4:55. It was only nine months after my surgery.
That was just the beginning. I am a mentor for new team members, and I've made lasting friendships with wonderful people. I have also been a spokesperson for TNT campaign events and have participated in LUNGevity's annual HOPE Summit in Washington, D.C. I recently celebrated my 10-year "cancerversary" by dancing at Tara's wedding, something I wasn't sure I'd ever do.
A quote I think of often is "You are as good as the company you keep." It reminds me how lucky I am to be among the finest of individuals who give selflessly and generously of their time and their hearts. I take the opportunity to raise awareness about early detection and that cancer does not have to be a death sentence. We cancer survivors are the "company" you want to keep.