Lung Cancer Survivor
Make a promise to live and then keep it one day at a time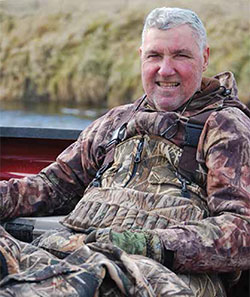 There wasn't anything in the world that could keep Jim Morrison from dancing with his daughter on her wedding day — not even cancer. Even though doctors gave him only six months to live, he was on that dance floor — six months after receiving his death sentence. It's now been over a decade, and a cancer-free Jim is grateful for all he's accomplished since his Stage IV non-small cell lung cancer diagnosis. The retired businessman and avid outdoorsman is now a published author whose words help countless "cancer warriors" and their families survive the same deadly disease.
I promised my mentor on his deathbed that I would help others just like he helped me, and I've been assembling an army of cancer warriors ever since.
When I was first diagnosed, I asked my doctor what the chances were of living five years. He said 2 percent — and I was ecstatic! I said, "You just saved my life; I didn't think I had any!"
I've since been through two separate recurrences, three surgeries and three years of chemotherapy, but I'm still here! Over the years, I've watched my son graduate and get married, and now my wife and I have four grandsons and a granddaughter.
I always advise other cancer patients that it's all about setting goals and keeping promises, along with paying attention to three very important F words:
Faith – Because I had faith, I did not seek a second opinion and didn't read one word on the internet about cancer. I just found the best team of doctors possible and had faith in their abilities to handle my disease. I figure you only get one chance at survival, so get the right team on the field and play to win.
Family – You're going to need support, so get rid of negative people, even if it's your mom. Cancer is negative enough and you'll want to surround yourself with positive people. For me, that was my family, and I wouldn't be here without them.
Facilities – Having a team of doctors with experience treating your type of cancer is crucial, as is finding a facility with state-of-the-art equipment and cutting-edge technology. You're going to need confidence to get through this, and if you don't have it, keep looking until you find it. Don't worry about hurting anyone's feelings; this is your life, and you only have one chance to live.
There's a lot to learn about life that I believe only God and cancer can teach you. However, cancer knows cancer, which is why I feel that having a mentor (and being one to others) is an absolute must.
This damned disease cost me my career and a lot of money, but it gave me a new job as an advocate and author. I can't spell, but I had a story to tell, and I promised I would help others get through this just like my friend helped me.
When I decided to write a book and asked my editor for advice on how to get started, he said, "Just put your ass in a chair and type." So that's what I did!
I speak with fellow cancer warriors from all around the country who have read my book and are appreciative for all of the information I include. One woman was upset because she started my book one night and couldn't put it down until she finished it at 3 a.m.!
"To See Another Sunrise …How to Overcome Anything One Day at a Time" is full of lessons I've learned that can hopefully help cancer patients and their families cherish the good days and get through the bad ones — one day at a time.