Lung Cancer Survivor
Helping Others Navigate Uncharted Waters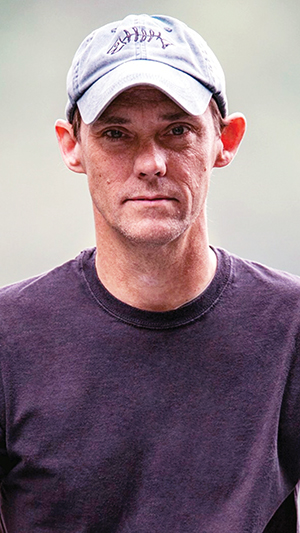 Scott Kindred understands the power of sharing his story. To make it possible for others to benefit as he has, he founded a support group and encourages people to advocate for themselves.
For years I'd known about a nodule in my upper right lung. I had it monitored at my annual physicals, but it didn't grow or change until 2014. When I felt a lump in my upper right shoulder, I told a thoracic surgeon who I worked with about it. After nearly 25 years as a pre-op/recovery room tech, I knew simply mentioning it would start the ball rolling. He ordered a PET, and as I expected and feared, it showed a tumor in my lung.
I had surgery to remove the upper right part of my lung. Knowing how important it is to get up after a surgery like that, I was walking 4 to 5 hours post-op. My surgeon deemed the surgery successful with no further treatment needed. I had follow-up chest scans regularly for the next year and a half.
One night in 2016, I was lying in bed and felt something poking me in my back rib. My surgeon ordered another PET and it lit up. Cancer had returned and spread to my bones, including my upper and lower spine, pelvis and ribs. I had Stage IV lung cancer.
I was referred to an oncologist who estimated I had about six to eight months without treatment. She recommended I start three platinum chemotherapies right away. Something in me was screaming not to do it. I'm a tall slender guy, and I didn't think my body could take it. I was aware of a certain immunotherapy and wanted to try it. I told her, "It's immunotherapy or nothing."
The oncologist asked me to think about it and come back in a week. It's no surprise that my friends and family members were shocked when they heard I refused the chemotherapy. At the time, immunotherapy wasn't covered by many insurance companies (mine included).
In the meantime, I began what would be 30 radiation treatments at the hospital where I worked. I could get my treatment then go on to work. My support system there was amazing. My boss was very understanding. It gave me purpose to continue to work. I was able to go home early if needed. I was moved to "light duty" until it got hard to physically work and I had to remove myself from my position to concentrate on myself.
I was at peace with my decision, and when I stuck to my guns at the second visit, my oncologist agreed to test my cells to see if they might respond to immunotherapy. At my third visit, she told me they did.
That was excellent news, but how this treatment would be paid for was still up in the air. At my fourth visit, she said I'd been signed up for the pharmaceutical company's assistance program and was taken on as a patient by the company. I could begin the immunotherapy infusions.
I'd heard about the "miracle" of immunotherapy and was aware it came with potential side effects. I was willing to take that gamble. I was trying to save my life.
I may have had all the side effects — from diarrhea and nausea to knee swelling and dehydration. They can be overcome. Your doctor can help, but I also found relief by listening to my body. When I had severe vomiting, I told my oncologist. Instead of changing or stopping treatment, I persuaded her to let me monitor my diet. I discovered the treatment made me intolerant to peanuts. My knowledge from working in the medical field is an asset, but you know your body best. Be open with your doctor but also think logically. After all, these are uncharted waters.
During my treatment, I was almost offended to learn there were no lung cancer support groups in Kentucky. So I started one — "Stages." Calling it Stages instantly felt right. There are stages of everything — life, cancer, grief. I chose a photo of a pier in South Carolina that I used at the bottom of my fliers. The pier is long, and it sits atop many pillars as it reaches far out into the ocean. Each pillar represents a person because just one pillar can't hold up the pier alone. It takes all those pillars working together.
I thought about how to get the group off the ground and eventually mentioned it to a social worker during one of my infusions. She took it to her director who loved the idea. The hospital took on Stages, and I became the moderator. They still use the image of the pier.
Talking with other patients in a group or during treatment is so valuable. For example, I was dehydrated after each infusion, so I asked the nurse if I could have a liter of fluid while I was getting my infusion. It did the trick, and I told another patient who was having the same problem. I also find tremendous power and energy in laughter. I've always been the cornball who makes the bad jokes.
After 39 infusions, I went into remission. Stages just went virtual, and I will continue to share my story, listen and help people be heard.